20th THESSALONIKI DOCUMENTARY FESTIVAL [2-11/3/2018]
Greek Program
53 feature and 25 short Greek documentaries will be screened during the 20th anniversary edition of the Thessaloniki Documentary Festival. Two of these films participate in the event's International Competition section, 23 are included in the various International Program sections and 53 in the Greek Panorama.
Society, politics, crisis, refugees, human rights, personal stories and art are the main topics of this year's rich domestic documentary production.
Everyday heroes
People next door become the protagonists in many Greek documentaries. In the film
A Fine Line Ioanna James explores why only 6% of head chefs/restaurant owners are women by exposing the experience of her mother, a Greek American small town restaurateur.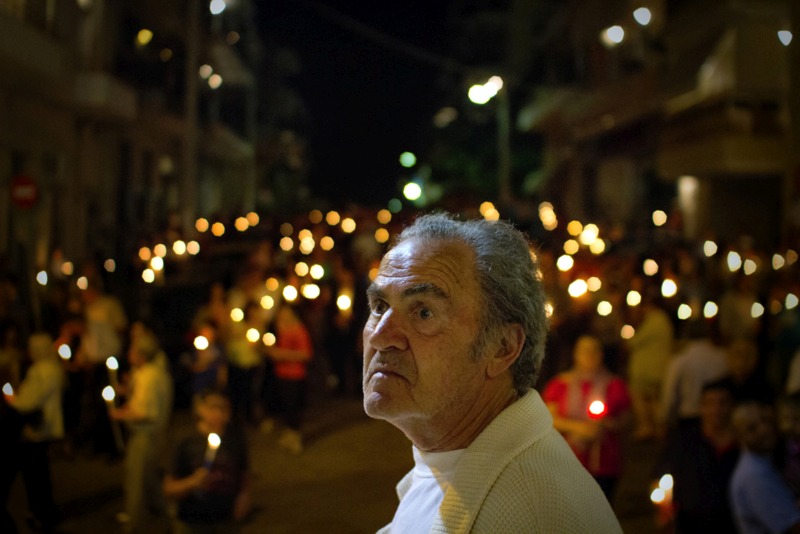 Changing family dynamics take centre stage in Christos Kapatos' Antoni's Voice -the filmmaker's personal tale marked by the unexpected return to his family home and his father's illness-, while Relics by Christos Panagos and Kostas Makrinos highlights a daughter's affection towards her ailing mother.
Courageous characters are the heroes many films, such as Stavros Psyllakis' Those Who Dared: Dionissios Ikkos about Dionissios Ikkos, one of the most significant Greek and international post-war medical doctors. HLA by Valentina Fedonos centres on leukemia patients linked to the Karaiskaki Foundation in Cyprus, while another type of struggle takes place in Stratis Chatzielenoudas' Back to the Top with a young punk rock paraplegic who plans to climb on the highest peak of Mount Olympus. Set in another part of the world, No Place for a Rebel by Ariadne Asimakopoulos and Maartje Wegdam looks at a young Ugandan who returns home after his abduction as a child by the rebels of the LRA/Lord's Resistance Army. In Menelaos Karamaghiolis' The Return, young prisoners learn to express themselves by forming a theatrical group, while a homeless man observes the life in contemporary Athens in Petros Niamonitakis' Out. Athens also provides the backdrop for Myrna Tsapa's Faoueyia, where the heroine finds consolation in roaming the streets and feeding stray cats.
Ideas that make a difference are the subject of Alexandros Economides' A Seed for Change that chronicles the director's quest for alternative ways to bypass crisis and the modern lifestyle. Lila Mokou's Science Reactors: Communicating Science from a Different Perspective introduces us to a group of scientists who use stand-up comedy to share their passion for science with a broader audience. Dealing with people's perception of time, Dimitris Gerardi's Shadows of Dreams presents some interesting points of view.
Remembrances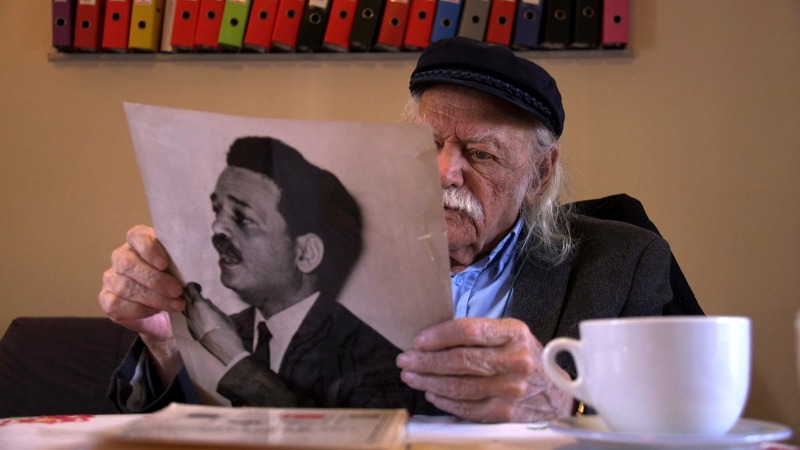 Andreas Hadjipateras' The Last Partisan is dedicated to Manolis Glezos (1922-), the most seminal leftist figure in Greece; a World War II resistance fighter who became the oldest member of European Parliament in 2014. Greek modern history is recalled in Athens Resistance (1941- 1944) by Xenofon Vardaros and Giannis Xydas, as well as in Ioannis Xirouchakis' Memories and Testimonies: The Long Night of Dictatorship that returns to the years of the Greek junta regime (1967–1974).
Painful memories and shocking testimonies set the tone in four films that document the Nazi atrocities committed during World War II in the island of Crete (Amari in Flames by Tasos Birsim and Flowers Fade Early, Kakopetros, August 28th, 1944 by Mathaios Frantzeskakis and Vicky Arvelaki), in the city of Ioannina, Greece (Balcony –Memories of Occupation by Chrysanthos Konstantinidis), but also in Lidice, Czech Republic (A Tree Remembers by Kostas Follas). Also dealing with collective memory, Yeliz Shukri's Missing Fetine unfolds a woman's search for her great aunt, who was victim of a forced marriage and left her home in Cyprus without a trace. On the other hand, Giorgos Demir's Pontos: "Memories in the Mist of Past" explores the persecution of Pontian Greeks in Turkey in the beginning of the 20th century.
Two historical documentaries revisit the past in different parts of Greece: Grigoris Vardarinos' The Great Fire of Salonica: Birth of a City documents the biggest and most destructive fire in the history of Thessaloniki in 1917, while Alexandros Potamianos' The Odyssey of Heptanese: The Βirth of a State chronicles the turbulent history of the Ionian Islands region in Greece.
The stranger
Greek documentary filmmakers record the compelling life stories of refugees, thus providing a multifaceted social examination of a critical issue. Here is an overview of the films' topics: People who strive to reach Europe by risking their lives (Dying for Europe by Nikos Pilos) and those who made it, but now face a new odyssey ahead (Europe, the Dream by Anneta Papathanasiou and Angelos Kovotsos); Snapshots of refugee camps and reception centers in the Greek island of Lesbos (Citizen Xenos by Lucas Paleocrassas, Welcome by Paola Revenioti), in Idomeni, Northern Greece (Border Souls by Takis Bardakos), in Lavrio, Athens (The Yard by Elisavet Tsouchtidi and Aris Bafaloukas) and in Skaramangas, Athens (Painting… by Dimitris Stamatis and Ioanna Neofytou); On-camera riveting narrations of refugees (Interlude by Joshua Olsthoorn and Lefteris Kaltsas, The Journey of Orpheus by Theofilos Dadis); A haunting account of these people's torturous trek via exclusive footage that they shot themselves with their mobile phones (The Refugee Crisis through Mobile Phones by Dafni Toli); The integration of children refugees into Greek schools and the conflicts that arise (A School against Racism-1st Elementary School of Oreokastro by Mihalis Agrafiotis).
Snapshots of Greece
Greece before and after the financial and refugee crisis is highlighted in The Αirport of Disillusions by Olivia Dehez and Anna Psaroudaki, through the stories of three people who find a common thread via the now deserted Athens airport of Hellinikon. Also tracing identity and nationality, Christina Vazou's From Africa with Love – Greekethiopics gives voice to the Greek-Ethiopians.
Searching for Andreas: Political Leadership in Times of Crisis by Harris Mylonas and Thodoris Prodromidis poses questions about Andreas G. Papandreou (1919-1996), one of the most charismatic –yet controversial- Greek political leaders. On a lighter tone, Leonidas Panonidis' Greek Football Legends: Takis Loukanidis unfolds the stormy life story of late Greek veteran footballer Takis Loukanidis.
Some of the documentaries invite us on a journey throughout Greece: Zacharias Mavroeidis' Across her Body delves into a pilgrims' custom that takes place every summer in the Greek island of Thirasia, near Santorini, while Kostas Vakkas' The Mediterranean – A Greek Lake looks at the history of Hellenism in the Mediterranean Sea. Also exploring the Greek seas, Triantafillia Dimopoulou's Thalatta centres on overfishing, while Alima by Loukas Koubouris and Nickolas Papadimitriou introduces us to the natural fish farms around the Messolonghi Lagoon in Greece. On the other hand, Parnitha: 10 Years after the Fire by Christos Giannakopoulos and Iasonas Kantas uncovers the constant unknown battle for the revival of Mount Parnitha that was destroyed by a devastating fire in 2007.
Pointing to the Greek society, Manos Papadakis' The Iceberg takes an unflinching look on sexism and gender-based violence in Greece, while Yorgos Zervas' AFTERWARDS - Data for 2017 showcases various fragments and hues of the contemporary Greek life. Stavros Stratigakos' Europe reflects on the dead ends of contemporary Europe through the crisis and the refugee issue in Greece.
Moving to the country's eastern part, Christos Pitharas' This is Sopi unfolds a day in the life of a village during harvest season focusing on a mosaic of characters. On a different tone, Simos Korexenidis' Tongue Twisters explores this language 'trick' in both an educational and entertaining way.
Around the world
Between corporate and public interests, lobbies and EU politics, austerity and democracy, Yorgos Avgeropoulos' Up to the Last Drop: The Secret Water War in Europe unveils the unknown water war in Europe. Thomas Sideris' The Noose boldly touches upon the issues of freedom of press and the human rights in Turkey. Set in the Bulgarian city of Pernik, Cracks in the Walls by Dimitra Kofti observes the social and economic transformations of this once-thriving industrial area of the Balkans.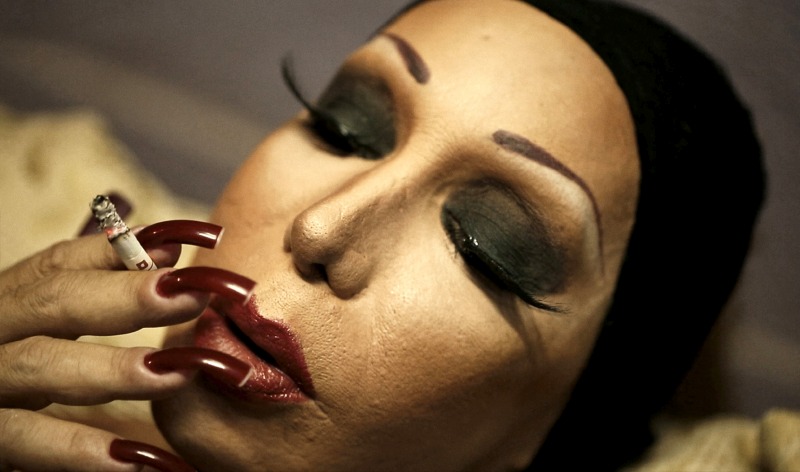 At the other side of the globe, in Rio de Janeiro, Evangelia Kranioti's Obscuro Barrocco provides a rare insight on gender, metamorphosis and self quests, whilst Iason Pipinis' Emberá records the traditional living of the indigenous Emberá community in Panama.
Arts panorama
Greek documentaries explore many fields of art through the portraits of notable Greek and international artists or by unfolding art-related stories in Greece and abroad.
Acclaimed Greek composers and musicians are the protagonists in the documentaries Nikos Mamangakis – The Last Word by Takis Sakellariou, Aristophane's Peace - Nikos Kypourgos  (Ancients' Drama) by Panos Pappas and Despina Haralambous, lambda pi by Christos Petrou (about Greek electronic music pioneer Lena Platonos), Me and My Shadow: A Documentary for Nikos Papazoglou by Michalis Aristidou and Ioannis Grigoropoulos (about the late popular Greek singer-songwriter Nikos Papazoglou), GUS G.: "Life through Fire" by Thanassis Tsaousopoulos (about the internationally renowned heavy metal Greek musician Gus G.). In addition, Marina Gioti and Yorgos Salameh's The Invisible Hands chronicles the birth of the same-name band, created in Egypt by the underground musician Alan Bishop, while Paranauêe: The Documentary by Anastasis Dallis tells the story of a Thessaloniki-based Afro-Brazilian percussion group.
Charlotte Rampling - Notebooks, Thanasis Lalas by Maria Giannouli portrays the acclaimed actress through a touching interview. Iasonas Tavlas' Symposium offers an intimate look at the late famous Greek filmmaker Nikos Koundouros, while Michalis Lykoudis' Dimitris Kataleifos: Whisperer of Τime features the acclaimed Greek actor Dimitris Katalifos as protagonist. Moving on to another type of art, Marianna Economou's Fragments focuses on Greek sculptress Alexandra Athanasiadi and Menios Karayannis's Marble Homeland  follows the German sculptor Ingbert Brunk who lives and works in the Greek island of Naxos. Three documentaries, each in its own special way, pay tribute to three celebrated Greek authors: Nikos Kazantzakis (The Work Above All by Tania Hatzigeorgiou), Pantelis Kaliotsos (Pantelis Kaliotsos-In the Writer's Workshop by Maria Douza) and Periklis Korovesis (The Method: Captured by Charis Gioulatos). Moreover, filmmaker Eleni Alexandraki dedicates her documentary Costis Papagiorgis, the Sweetest Misanthrope to her late friend, Greek essayist Costis Papagiorgis.
The Greek Program also includes documentaries about the past, present and future of the Greek National Opera (National Opera of Greece: The Story of Opera in Greece by Kostas Avgeris), a fascinating journey through the contemporary improvisational music (In Situ by Chryssa Tzelepi and Akis Kersanidis), an analog studio located in a secluded village in Kilkis, Northern Greece (Magnetic Fidelity: A Love Story by Elina Verikiou), as well as a profile of the contemporary Greek alternative rock scene (A Shout out to the Way Out by Sergios Vafeiadis). In addition, Haris Raftogiannis' Opening Credits provides an insider's overview of Greek cinema before the success of Dogtooth, while Nikos Theodosiou's Prohibited Visit follows the footsteps of Luis Buñuel in Spain. Elias Yannakakis' A Wake for Shakespeare chronicles an unconventional night-long tribute to Shakespeare's oeuvre that took place in Athens, while Happy Princes by Panos Deligiannis demonstrates how theatre spreads the wings of a group of children in a Brazilian favela.
List of films:
A FINE LINE, Ioanna James, USA, 2016, 70'
A SCHOOL AGAINST RACISM (1ST ELEMENTARY SCHOOL OF OREOKASTRO), Mihalis Agrafiotis, Greece, 2018, 30'
A SEED FOR CHANGE, Alexandros Economides, Greece, 2017, 75'
A SHOUT OUT TO THE WAY OUT, Sergios Vafeiadis, Greece, 2017, 98'
A TREE REMEMBERS, Kostas Follas, Greece, 2018, 88'
A WAKE FOR SHAKESPEARE, Elias Yannakakis, Greece, 2017, 70'
ACROSS HER BODY, Zacharias Mavroidis, Greece, 2018, 85'
AFTERWARDS- DATA FOR 2017, Yorgos Zervas, Greece, 2018, 82'
ALIMA, Loukas Koumpouris & Nikolas Papadimitriou, Greece, 2017, 30'
AMARI IN FLAMES, Tasos Birsim, Greece, 2017, 36'
ANTONIS' VOICE, Christos Kapatos, Greece, 2018, 75'
ARISTOPHANE'S PEACE – NIKOS KYPOURGOS (ANCIENTS' DRAMA), Panos Pappas & Despina Haralambous, Greece, 2017, 61'
ATHENS RESISTANCE (1941-1944), Xenofon Vardaros & Giannis Xydas, Greece, 2018, 72'
BACK TO THE TOP, Stratis Chatzielenoudas, Greece, 2018, 96'
BORDER SOULS, Takis Bardakos, Greece, 2017, 50'
CHARLOTTE RAMPLING - NOTEBOOKS, THANASIS LALAS, Maria Giannouli, Greece, 2017, 24'
CITIZEN XENOS, Lucas Paleocrassas, Greece, 2017, 63'
CRACKS IN THE WALLS, Dimitra Kofti, Bulgaria-Greece-Italy-Germany, 2018, 56'
DIMITRIS KATALEIFOS: WHISPERER OF TIME, Michalis Lykoudis, Greece, 2017, 30'
DYING FOR EUROPE, Nikos Pilos, Greece, 2017, 17'
EMBERA, Iason Pipinis, Panama-Greece, 2018, 20'
EUROPE, Stavros Stratigakos, Greece, 2017, 30'
EUROPE, THE DREAM, Anneta Papathanasiou & Angelos Kovotsos, Greece, 2018, 80'
FAOUEYIA, Myrna Tsapa, Greece, 2017, 61'
FLOWERS FADE EARLY, KAKOPETROS, AUGUST 28TH, 1944, Mathaios Frantzeskakis & Vicky Arvelaki, Greece, 2018, 64'
FRAGMENTS, Marianna Economou, Greece, 2018, 47'
FROM AFRICA WITH LOVE - GREEKETHIOPICS, Christina Vazou, Greece, 2017, 47'
GREEK FOOTBALL LEGENDS: TAKIS LOUKANIDIS, Leonidas Panonidis, Greece, 2017, 47'
GUS G. "LIFE THROUGH FIRE", Thanassis Tsaousopoulos, Greece, 2018, 117'
HAPPY PRINCES, Panos Deligiannis, Greece-Germany, 2017, 82'
HLA, Valentina Fedonos, Cyprus-Greece, 2018, 65'
IN SITU, Chryssa Tzelepi & Akis Kersanidis, Greece, 2017, 104'
INTERLUDE, Joshua Olsthoorn & Lefteris Kaltsas, Greece, 2017, 40'
KOSTIS PAPAGIORGIS, THE SWEETEST MISANTHROPE, Eleni Alexandraki, Greece, 2017, 92'
LAMBDA PI, Cristo Petrou, Greece, 2017, 70'
MAGNETIC FIDELITY: A LOVE STORY, Elina Verikiou, Greece, 2017, 52'
MARBLE HOMELAND, Menios Karayannis, Greece, 2018, 57'
ME AND MY SHADOW: A DOCUMENTARY FOR NIKOS PAPAZOGLOU, Michalis Aristidou & Ioannis Grigoropoulos, Greece, 2017, 90'
MEMORIES AND TESTIMONIES: THE LONG NIGHT OF DICTATORSHIP, Yiannis Xirouhakis, Greece, 2017, 44'
MISSING FETINE, Yeliz Shukri, Cyprus, 2017, 75'
NATIONAL OPERA OF GREECE: THE STORY OF OPERA IN GREECE, Kostas Avgeris, Greece, 2017, 82'
NIKOS MAMANGAKIS THE LAST WORD, Takis Sakellariou, Greece, 2018, 63'
NO PLACE FOR A REBEL, Ariadne Asimakopoulos & Maartje Wegdam, The Netherlands-Uganda, 2017, 76'
OBSCURO BARROCO, Evangelia Kranioti, France-Greece-Switzerland, 2018, 59'
OPENING CREDITS, Haris Raftogiannis, Greece, 2018, 43'
OUT, Petros Niamonitakis, Greece, 2017, 21'
PAINTING...,Dimitris Stamatis & Ioanna Neofytou, Greece, 2017, 23'
PANTELIS KALIOTSOS-IN THE WRITER'S WORKSHOP, Maria Douza, Greece, 2018, 64'
PARANAUE THE DOCUMENTARY,Anastasis Dallis, Greece, 2018, 62'
PARNITHA: 10 YEARS AFTER THE FIRE, Christos Giannakopoulos & Iasonas Kantas, Greece, 2017, 21'
PONTOS "MEMORIES IN THE MIST OF PAST", Giorgos Demir, Turkey-Greece, 2017, 92'
PROHIBITED VISIT, Nikos Theodosiou, Greece-Spain, 2017, 35'
RELICS, Christos Panagos & Kostas Makrinos, Greece-Cyprus, 2017, 17'
SCIENCE REACTORS: COMMUNICATING SCIENCE FROM A DIFFERENT PERSPECTIVE, Lila Mokou, Greece, 2017, 73'
SEARCHING FOR ANDREAS: POLITICAL LEADERSHIP IN TIMES OF CRISIS, Harris Mylonas & Thodoris Prodromidis, Greece-USA, 2018, 94'
SHADOWS OF DREAMS, Dimitris Yerardis, Greece, 2018, 80'
SYMPOSIUM, Iasonas Tavlas, Greece, 2017, 21'
THALATTA, Triantafillia Dimopoulou, Greece, 2017, 50'
THE AIRPORT OF DISILLUSIONS, Olivia Dehez & Anna Psaroudaki, Greece-France, 2017, 25'
THE BALCONY - MEMORIES OF OCCUPATION, Chrysanthos Konstantinidis, Greece, 2018, 105'
THE GREAT FIRE OF SALONIKA: BIRTH OF A CITY, Grigoris Vardarinos, Greece, 2017, 62'
THE ICEBERG, Manos Papadakis, Greece, 2018, 35'
THE INVISIBLE HANDS, Marina Gioti & Yorgos Salameh, Greece-Egypt, 2017, 93'
THE JOURNEY OF ORPHEUS, Theofilos Dadis, Greece, 2017, 62'
THE LAST PARTISAN, Andreas Hadjipateras, Greece, 2018, 74'
THE MEDITERRANEAN-A GREEK LAKE, Costas Vakkas, Greece, 2018, 152'
THE METHOD: CAPTURED, Charis Gioulatos, Greece, 2017, 13'
THE NOOSE, Thomas Sideris, Greece, 2017, 104'
THE ODYSSEY OF HEPTANESE: THE BIRTH OF A STATE, Alexandros Potamianos, Greece, 2017, 66'
THE REFUGEE CRISIS THROUGH MOBILE PHONES, Daphne Toli, Greece, 2017, 40'
THE RETURN, Menelaos Karamaghiolis, Greece, 2017, 63'
THE WORK ABOVE ALL, Tania Hatzigeorgiou, Greece, 2017, 59'
THE YARD, Elisavet Tsouchtidi & Aris Bafaloukas, Greece, 2017, 31'
THIS IS SOPI, Christos Pitharas, Greece, 2017, 60'
THOSE WHO DARED: DIONISSIOS IKKOS, Stavros Psyllakis, Greece, 2017, 52'
TONGUE TWISTERS, Simos Korexenidis, Greece, 2018, 64'
UP TO THE LAST DROP- THE SECRET WATER WAR IN EUROPE, Yorgos Avgeropoulos, Greece-France-Germany, 2017, 63'
WELCOME, Paola Revenioti, Greece, 2017, 59'