The unexpected, controversial cinema of Véréna Paravel and Lucien Castaing-Taylor, guests to the 20th anniversary edition of the Thessaloniki Documentary Festival, was at the heart of the event "A Look into the Bizarre: A Discussion with Véréna Paravel and Lucien Castaing-Taylor" that took place on Friday 9 March 2018 in the Thessaloniki Center of Contemporary Art. The event was moderated by the film director Athena Rachel Tsangari.
his year's event presents for the first time the two artists' body of work, as part of >> Film Forward tribute. In this discussion, the audience had the opportunity to find out what inspires the two filmmakers, and be introduced to their direct, original filming method which offers a unique cinematic experience.
Introducing the filmmakers, the film director Athena Rachel Tsangari noted: "Watching Véréna Paravel and Lucien Castaing-Taylor's non-fiction films, I learnt a lot about fiction". As filmmakers, the two artists collaborate with the Sensory Ethnography Lab of Harvard University, which promotes innovative combinations of aesthetics and ethnography, with the use of analog and digital media. The purpose of their work is to combine the element of denial in art with an ethnographic attachment to the flux of life. Their films and videos have been screened in several international festivals, while their works are presented in the permanent exhibition of MOMA, New York, and the British Museum. They have participated in exhibitions at MOMA, the Institute of Contemporary Arts in London, the Whitney Museum, the Pompidou Centre, the Kunsthalle Berlin, the Whitechapel Gallery and PS1, while conferences focusing on their work have been organized in the Smithsonian Institute, the Quai Branly Museum and the British Museum.
Véréna Paravel talked about her transition from sciences to cinema, and for her decision to get involved in documentary, noting: "Finishing my studies in France, I realized that I had no desire at all to participate in yet another conference or write yet another essay, or a scientific article, or a book. I had the feeling that everything I wanted to express was getting 'smaller' when put in words; it was getting dehydrated, it was losing its essence. So I decided to make films, even though I didn't have the slightest idea how to do it. I had never been trained to be a cinematographer. The first time I worked with camera, the result was 'too academic and full of nonsense'. At least that's what I was being told when I asked for opinions. Until after many similar attempts I met Lucien".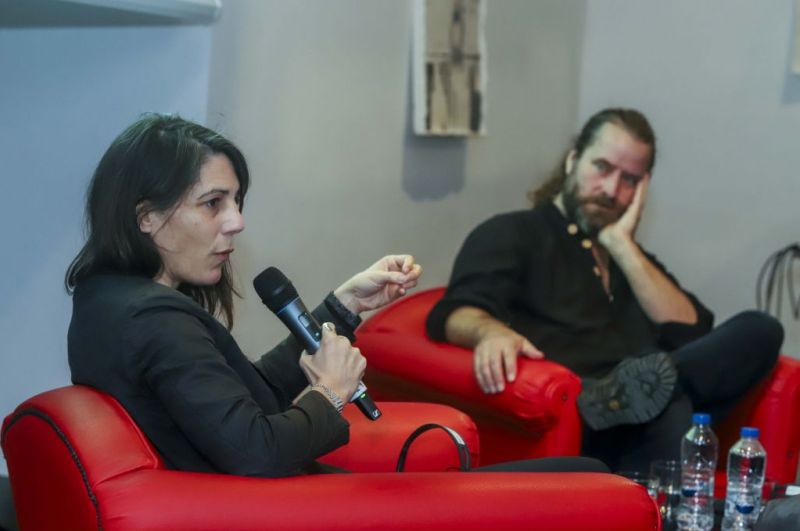 What she wanted, as she said, was not to put man at the center of her films, but mainly to restore the balance between nature and man through her images. Describing the rationale behind the film Sweetgrass, Lucien Castaing-Taylor said: "The initial idea was to make a documentary on modern West, on modern America. How can you approach such a subject, though? I used to live in Colorado at the time, and I was very impressed by a certain highway named Boulder. In this highway there are two big buildings, one of which is Naropa University, which follows the beatnik philosophy, a neo-Buddhist new age center for rich people to send their kids to learn poetry and arts, find themselves etc. Not far from it, there are the offices of Soldier of Fortune magazine, an edition for people with racist views, who are pro gun ownership and pro violence. The American West is exactly this coexistence, and this is what we wanted to film. But it proved difficult to find the real communities of people who represent the respective ideologies. Before achieving this, we happened to hear there were still cowboys who were guiding their flocks to a field nearby for the summer every year. We wanted to follow them, and that's how we made the film Sweetgrass. It was the most beautiful, exotic experience of my life".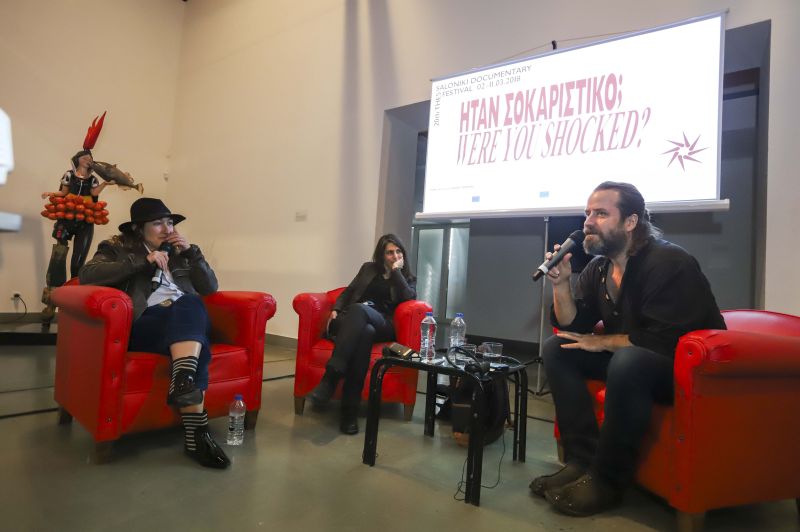 Paravel and Castaing-Taylor have used cinematography as a scientific tool. Still, what they do with camera has nothing to do with the methods and principles of the ethnographic film. As Athena Rachel Tsangari noted, "both the stylized sound which is at times industrial and sensual, like a musical composition, and the 'physicality' of filming, are contrary to everything we know about ethnographic film". As to this differentiation, which mainly touches upon principle and philosophy, Mr Castaing-Taylor noted: "What I had in mind when I started filming that summer was that ethnographic documentary is dominated by a rather exotic depiction of people or cultures filmed. You have the feeling that the bourgeois anthropologist wishes, through their film, to capture a culture which is about to vanish. A little before its vanishing, they record it for the next generations. We did not want such a thing. We were interested in the closeness to our subject, in our association with it, in the experience itself". He added: "The other idea that prevailed during our stay in the countryside and the shootings was how amazing the American landscape is. Nature, the direct contact with animals, became in my mind associated with the pastoral themes that prevailed in art, especially in painting, for many centuries, from the time of ancient Greeks and the Romans. The cowboy profession is so hard, though. Life is so hard and we felt it during the three-month period we lived with them. And I felt the need to depict the harder side of this life".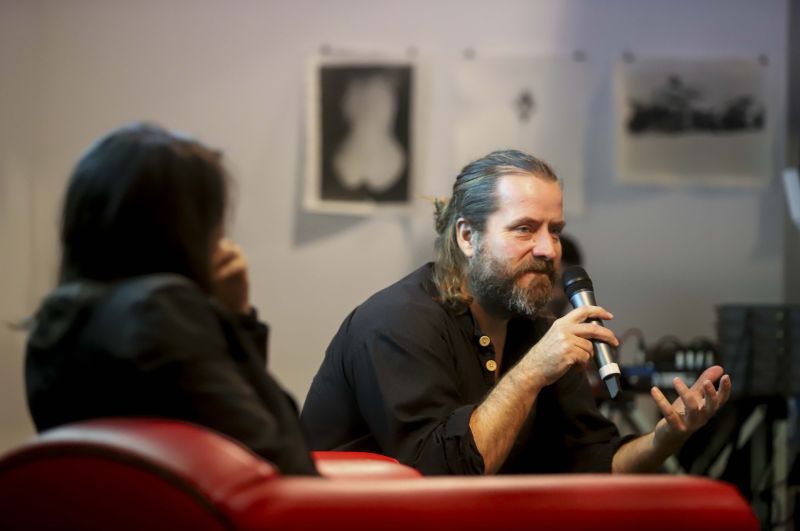 In the film Foreign Parts, Mrs Paravel sought to understand the economy of a totally different landscape and the people living in it, against the backdrop of Queens' industrial zone which was about to be demolished and disposed for urban renovation. The director, who did not speak these people's language and resorted to patient observation in order to depict them, said she was totally enchanted by this socially, economically and politically complex society. As to the choice of Leviathan's subject, the filmmaker noted: "We were interested in the community of fishermen in New Bedford, Massachusetts.  It is the biggest whaling port and it is impressive that, reading its description in Melville's "Moby Dick", you find out that the city remains almost the same until today. So we were interested in the place, but also in the feeling of being at sea. We followed the fishermen there and lived their lives for a few weeks. Therefore, we don't say their story from our own point of view, but from theirs". On his part, Mr Castaing-Taylor added: "We filmed with a small waterproof camera tied on the human body while it strives. So whatever you see in the film is somehow linked to the human body". He also stressed that "These fishermen were working in two shifts, for 20 hours a day, and we were with them all the time. Perhaps the sense of transcendence some viewers experience watching this film is due to this fact as well". Speaking about the feelings she had the first time she watched the film Leviathan, Mrs Tsangaris said: "Instead of a 'fly on the wall' method, you get the view of an... oyster on the ship. This anguished human experience, the feeling that the body itself wants to participate somehow in what it witnesses, is indescribable. There is a transcendence going on in these films, which look more like representations pervaded by memories, almost synaesthesia, than films".
In a change of subject, the two artists spoke about their film Caniba, which explores human nature and perhaps its extremest deviation: cannibalism. Speaking about her meeting with the film main character, the Japanese cannibal Issei Sagawa, Mrs Paravel noted: "I remember when in my teen years in France, public opinion was shocked with the murder of a French student by a Japanese classmate, who was also studying in France at the time. He was in love with her and after kidnapping her, he abused and killed her, and then cannibalized her. I remember very well the horror I felt by all this and was shocked when, during our research in Japan, I discovered that the murderer was now free and was Issei Sagawa. We looked for him, approached him, and he agreed to take part in our project. I remember us sitting quietly and looking at each other for a long time. Finally, his brother started to talk and ask him various questions, in an attempt to understand himself. This experience helped us observe, question, think about human nature in response to the biggest taboo existing, cannibalism. 
In a different context, asked about the philosophy and the principles of the Sensory Ethnography Lab and their filming practices, Lucien Castaing-Taylor noted: "The Lab does not have any particular philosophy. Our common goal is to not reproduce things, not repeat everything that has been done in documentary, journalism, anthropology, or conceptual art. Our method is as follows: there is no method".