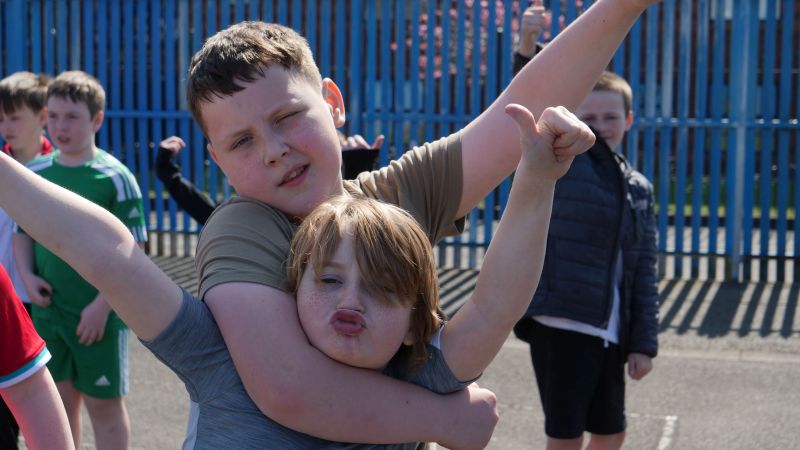 An observational documentary set in post-conflict Belfast's Ardoyne, where a marginalized, working-class community has for generations been plagued by poverty, drugs, and guns. This film charts the dream of Headmaster Kevin McArevey and his dedicated, visionary team illustrating how critical thinking and pastoral care can empower and encourage children to see beyond the boundaries and limitations of their own community. We see how philosophy can encourage them to question the mythologies of war and of violence, and sometimes challenge the narratives their parents, peers, and socio-economic group would dictate.
Screening Schedule
No scheduled screenings.
Available at the Agora Market.
---
Direction:

Neasa Ní Chianáin, Declan McGrath

Script:

Neasa Ní Chianáin, Etienne Essery, Declan McGrath

Cinematography:

Neasa Ní Chianáin

Editing:

Philippe Ravoet

Sound:

Reto Stamm, Frédéric Hamelin

Music:

David Poltrock

Production:

Solisiu Films

Producers:

David Rane

Co-production:

Aisling Productions, Clin d'Oeil Films, Zadig Productions

Co-producers:

Declan McGrath, Hanne Phlypo, Jackie Doyle, Céline Nusse

Format:

DCP

Color:

Color

Production Country:

UK, Ireland, France, Belgium

Production Year:

2021

Duration:

102΄

Contact:

Autlook Filmsales
Filmography
2004 Frak Ned & Busy Lizzie
2007 Fairytale of Katmandu
2014 The Stranger
2016 School Life
2021 Young Plato
Filmography
2018 Lomax in Éirinn
2018 Tír Eoghain: The Unbreakable Bond
2019 Stephen: My Fight for Life
2021 Young Plato