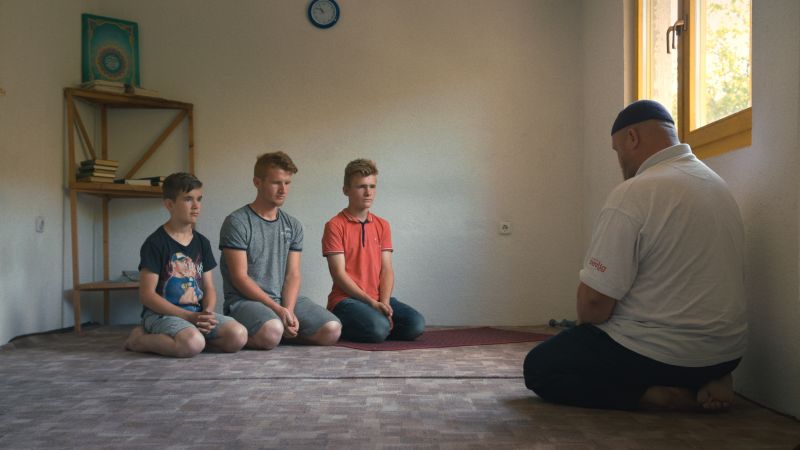 Jabir, Usama, and Useir are three young Bosnian brothers who grew up in the shadow of their father, a strict Islamist preacher. When he gets sentenced to two years in prison for terrorism, the three brothers are suddenly left alone. They can explore the newly acquired freedom on the difficult journey to becoming men. A fascinating exploration of youth, manhood, and search for identity.
Screening Schedule
No scheduled screenings.
Available at the Agora Market.
---
Direction:

Francesco Montagner

Script:

Francesco Montagner, Alessandro Padovani

Cinematography:

Prokop Souček

Editing:

Valentina Cicogna, Klára Tasovská, Jorge Sánchez Calderón

Sound:

Daniela Bassani, Marzia Cordò, Adam Levý

Production:

Nutprodukce

Producers:

Pavla Janoušková Kubečková

Co-production:

Nefertiti Film, Rai Cinema, Arte GEIE, Czech television, Al Jazeera Documentary, FAMU

Format:

DCP

Color:

Color

Production Country:

Czech Republic, Italy

Production Year:

2021

Duration:

97΄

Contact:

Deckert Distribution

Awards/Distinctions:

Pardo d'oro, "Cineasti del presente" Competition – Locarno IFF 2021, Main Award (Czech Joy Competition), Best Cinematography – Ji.hlava IDF 2021, Special Mention – Verzio HRFF 2021, Special Mention – AJB DOC 2021, Special Mention – Verzio HRFF 2021
Filmography
2014 Animata resistenza
2018 Importance of Everybody (short fiction)
2021 Brotherhood