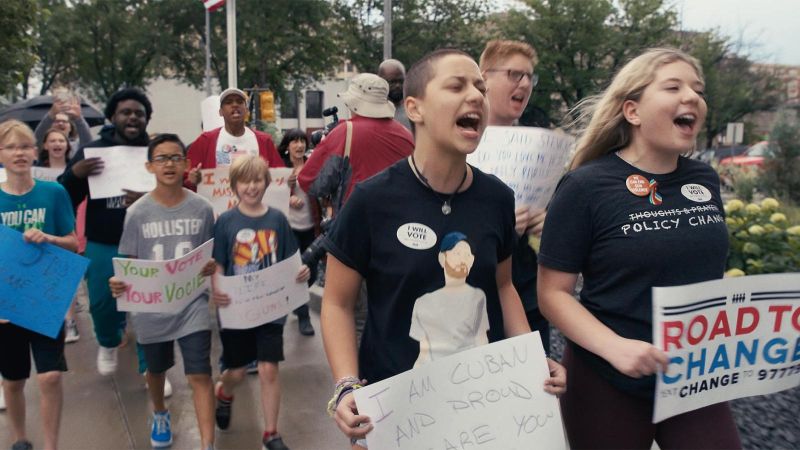 They were just regular high-school students – playing sports, studying for finals, goofing off, dancing, and dreaming. And then, on February 14, 2018, in just seven minutes, everything changed. In the aftermath of the nightmarish shooting that took 17 lives, the students of Marjory Stoneman Douglas High School in Parkland, Florida became something else: traumatized, angry, and imbued with unalloyed purpose. This remarkable film follows the teens on their journey of political activism and growth after the indelible shooting in a coming-of-age story that manages to be equal parts heartbreaking and hopeful.
Screening Schedule
No physical screenings scheduled.
Available at the Agora Market.
---
Direction:

Kim A. Snyder

Cinematography:

Derek Wiesehahn

Editing:

Leigh Johnson

Sound:

John Mathie

Music:

Fil Eisler, Brian Reitzell

Production:

Κ.Α. Snyder Productions, Cuomo Cole Productions, Hard Working Movies

Producers:

Kim A. Snyder, Maria Cuomo Cole, Lori Cheatle

Co-producers:

Cynthia Kane

Executive producer:

Cher, Jenny Raskin, Geralyn White Dreyfous, Dan Cogan, Sam Bisbee, Jackie Kelman Bisbee, Wendy Neu, Hallee Adelman, Ivy Herman, Regina K. Scully, Jamie Wolf, Jamie Patricof, Katie Mcneill, Liz Kramer Lefkofsky, Jim and Susan Swartz, Marni Grossman, Lynda Weinman

Format:

DCP

Color:

Color

Production Country:

USA

Production Year:

2020

Duration:

96΄

Contact:

Cargo Film & Releasing

Awards/Distinctions:

Kathleen Bryan Edwards Award for Human Rights – Full Frame Documentary Film Festival 2020, Bruce Sinofsky Prize for Documentary Feature – Montclair FF 2020, Best Documentary Feature – Crested Butte FF 2020, Impact Film Award – Boulder IFF 2021
15+
Filmography
2000 I Remember Me
2008 One Bridge to the Next (short)
2009 Welcome to Shebyville
2016 Newtown
2018 Notes from Dunblane: Lesson from a School Shooting (short)
2020 Us Kids