Washed Ashore
Angeschwemmt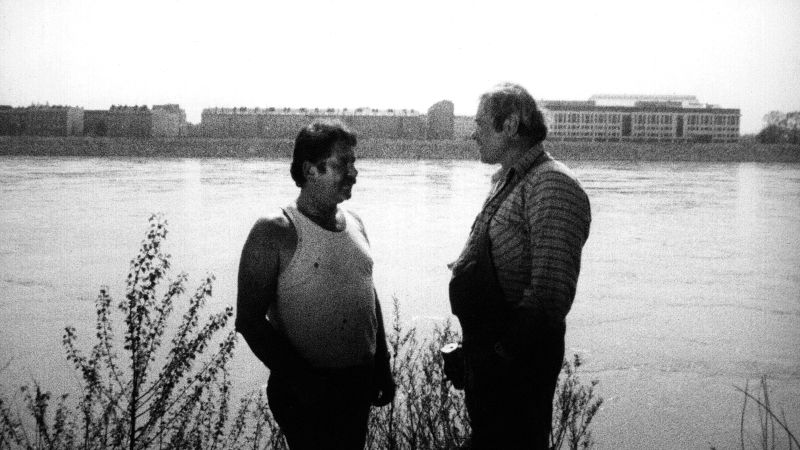 Life on the Danube is essentially determined by two factors: the river itself and the often strange idiosyncrasies of the people who live along its banks. And they are multifarious: fishermen and graveyard wardens, Buddhist monks, allotment holders on Danube Island, stranded shippers, tramps and soldiers. All linked by the great current against which they swim. The film tells their stories and their longings in tranquil images by an unobtrusive camera.
Screening Schedule
No physical screenings scheduled.
---
Direction:

Nikolaus Geyrhalter

Script:

Nikolaus Geyrhalter

Cinematography:

Nikolaus Geyrhalter

Editing:

Wolfgang Widerhofer, Nikolaus Geyrhalter

Sound:

Christoph Meissl, Rainer Knoepffler

Music:

Polina Schestova, Anatoliy Bulavitskiy, Valentin Kiriytschuk

Production:

NGF - Nikolaus Geyrhalter Filmproduktion

Producers:

Nikolaus Geyrhalter

Format:

DCP

Color:

B/W

Production Country:

Austria

Production Year:

1994

Duration:

87'

Contact:

NGF – Nikolaus Geyrhalter Filmproduktion

Awards/Distinctions:

New Cinema Prize – Vienna IFF 1994
Nikolaus Geyrhalter is a director, producer, and cameraman, born in Vienna in 1972. In 1994, when he was 22 years old, he founded his own production company Nikolaus Geyrhalter Filmproduktion which focuses on documentaries and amateur fiction. He made his first film, Eisenerz, in 1992. Two years later, he shot his first documentary, Washed Ashore (1994) narrating a story about the river Danube and often strange idiosyncrasies of the people who live along its banks. Geyrhalter's static-camera, well-paced observational films tackle their subjects head-on, whether it's exploring the terrain in Chernobyl, Ukraine (Pripyat, 1999), tracing the route of the Dakar Rally (7915 KM, 2008), or investigating the production of processed foods (Our Daily Bread, 2005). In 2003, he received the Austrian State Award for Film Art and in 2008 his film Our Daily Bread won the Grimme Prize. Throughout the years, his films were nominated for and won numerous other awards in the world's most renowned festivals, including (among others) IDFA, the Berlinale, Jihlava International Documentary Film Festival, IndieLisboa, DocSheffield, Cinéma du Réel, Diagonale, and, most recently, Locarno.
Filmography
1994 Washed Ashore
1997 The Year After Dayton
1999 Pripyat
2001 Elsewhere
2005 Our Daily Bread
2008 7915 KM
2010 Allentsteig (TV)
2011 Abendland
2012 Danube Hospital (TV)
2013 Cern (TV)
2015 Over the Years
2016 Homo Sapiens
2018 The Border Fence
2019 Earth
2022 Matter Out of Place