1 + 1 = 1 @ the Olympion theaters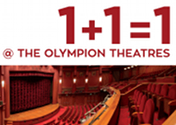 The Thessaloniki International Film Festival presents its audience with a new offer for the year 2015: viewers will be able to watch the best of first-run films with two tickets in the price of one.

Namely, for every ticket bought for a night-zone screening, visitors will receive another one for free. The offer stands for all screenings in the Olympion and Pavlos Zannas theaters from 22.30 onwards and for tickets priced at the non-discount rate of €7.50 - except from Fridays and Saturdays.

The offer is not valid: during the Thessaloniki International Film Festival and the Thessaloniki Documentary Festival, for the Thessaloniki Cinematheque screenings, as well as for third party events.