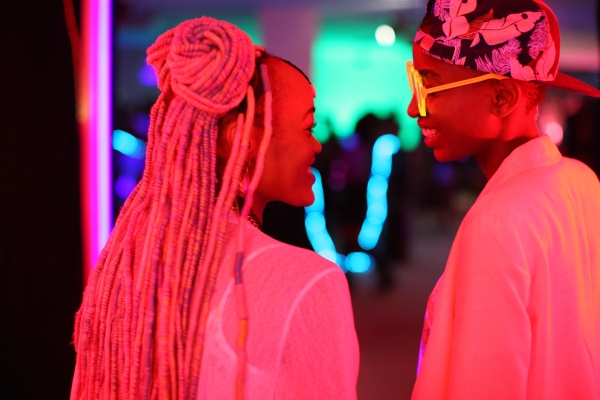 "Rafiki" means friend in Swahili – this is a word commonly used by Kena and Ziki, two young women that want to hide their erotic passion from the conservative Kenyan society, and particularly from their families, who are political rivalries in the local elections. An irresistible pop/feel-good romance about the daze and impulse of the first love – augmented through the magic filters of the colorful, bustling, complex streets of Nairobi – which was banned in its production country, but still fights for a change in the landscape of human rights in East Africa, beyond the boundaries of the cinema hall.
---
Direction:

Wanuri Kahiu

Script:

Wanuri Kahiu, Jenna Bass, Monica Arac de Nyeko (based on her short story)

Cinematography:

Christopher Wessels

Editing:

Isabelle Dedieu, Ronelle Loots

Sound:

Frederic Salles

Actors:

Samantha Mugatsia, Neville Misati, Jimmi Gathu, Nini Wacera, Dennis Musyoka, Patricia Amira, Sheila Munyiva, Muthoni Gathecha, Nice Githinji, Githae Njogu, Vitalis Waweru, Hellen Aura, Charlie Karumi

Production:

Big World Cinema, Afrobubblegum

Producer/Producers:

Steven Markovitz

Co-production:

MPM Film, Shortcut Films, APE&BJORN, Rinkel Film, Razor Film in association with Tango Entertainment

Co-producer/Co-producers:

Marie-Pierre Macia, Claire Gadéa, Georges Schoucair, Ruben Thorkildsen, Verona Meier, Reinier Selen, Gerhard Meixner, Roman Paul, Wanuri Kahiu, Tamsin Ranger

Art Direction:

Arya Lalloo

Executive producer:

Tim Headington

Format:

DCP

Color:

Color

Production Country:

Kenya, South Africa, France, The Netherlands, Gernany

Production Year:

2018

Duration:

82'

Contact:

MPM Premium, sales@mpmfilm.com
Born in Nairobi, Wanuri is part of the new generation of African storytellers. Her stories and films have received international acclaim. Her films were screened in numerous film festivals around the world. To date, Wanuri has written and directed six films, she is the co-founder of Afrobubblegum, a media company that supports, creates and commissions fun and fierce African art, and has also written a children's book. In 2008, Wanuri completed her awarded first feature film From a Whisper, based on the real life events surrounding the twin bombings of US Embassies in Nairobi and Dar es Salaam in 1998.
Filmography
2006 Ras Star (short)
2009 From a Whisper
2009 Pumzi (short)
2018 Rafiki