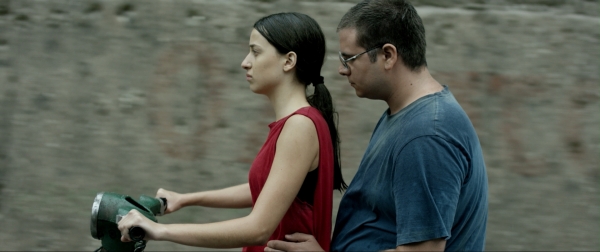 Christina, who is a teenage girl, lives in a remote village. The construction of a dam will force the residents to abandon it. In the last days of its evacuation, Christina will have to make difficult decisions, such as what will happen to the old dog that she takes care of.
---
Direction:

George Teltzidis

Script:

Giorgos Teltzidis, Sotiris Babatzimopoulos, Kostas Gerabinis

Cinematography:

Yorgos Frentzos

Editing:

Lydia Antonova

Sound:

Yannis Giannakopoulos

Music:

Kostantis Papakonstantinou

Actors:

Simos Kakalas, Dimitris Abatzis, Stamatia Papathanasi, Konstantina Takalou

Production:

Viewmaster, info@viewmasterfilm.gr, ERT S.A, microfilm@ert.gr

Producer/Producers:

Yorgos Kyriakos

Sets:

Chryssa Serdari

Format:

DCP

Color:

Color

Production Country:

Greece

Production Year:

2017

Duration:

17΄

Awards/Distinctions:

Best Southeastern European Film Award-Drama Film Festival (2017)
George Teltzidis studied Film and European Culture. He has written and directed short films, documentaries, and commercials. He was twice a candidate for the Hellenic Film Academy Award in the Best Short Film category and was selected at the Talent Campuses of the Berlinale Film Festival, the Sarajevo Film Festival and the Zurich Film Festival.
Filmography
2010 Mr P. (short)
2012 Pure Radio (short)
2014 Dye (short)
2017 Dam (short)