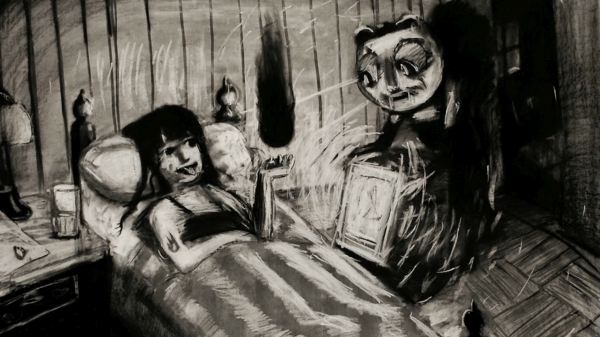 A video animation in seven parts, comprising charcoal drawings made by the artist. The drawings did not survive the animation process, as if they were lost themselves in the wind.
---
Direction:

Joaquín Cociña

Script:

Joaquín Cociña

Production:

Diluvio

Format:

DCP

Color:

B&W

Production Country:

Chile

Production Year:

2010

Duration:

4΄

Contact:

La Casa Lobo, lacasalobo2018@gmail.com
Cristóbal León and Joaquín Cociña (both 1980, Chile) have been working together since 2007. In their experimental films, they draw techniques from photography, drawing, sculpture, dance, and performance, to create a new interpretation of religious symbolism and magical rituals – elements that are deeply rooted in the traditional culture of Latin America. The papier mâché figures and innocent-looking drawings strongly contrast with the heavy topics, such as religion, sex and death, the films deal with. Next to their screening in international film festivals, their work is frequently exhibited in museums and biennial exhibitions in Latin America, but it has also been presented at venues such as the Whitechapel Gallery, KW Berlin, the Venice Biennial 2013 and Art Basel Statements 2012. They are represented by Upstream Gallery (Amsterdam). Their first full-length film La Casa Lobo premiered at the 68th Berlinale in 2018, where it was awarded the Caligari Film Prize.
Filmography
2007 Lucía
2008 Luís
2009 Der Kleinere Raum | The Smaller Room
2010 Weathervane
2011 Padre. Madre. | Father. Mother.
2011 El Templo | The Temple
2011 El Arca | The Arc
2012 La Bruja Y El Amante | The Witch And The Lover
2012 Los Andes | The Andes
2016 La Madrasta | The Stepmother
2017 Viva Chillan: Una Crueldad Innecesaria
2018 La Casa Lobo | The Wolf House