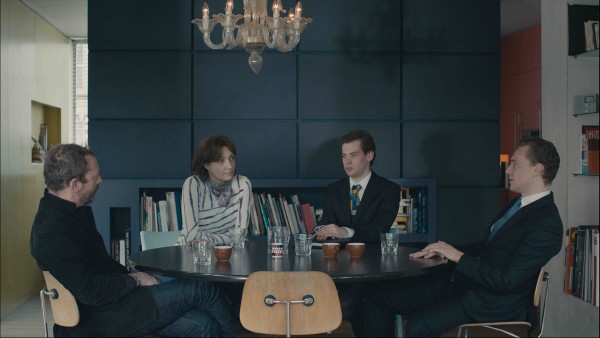 D and H, a married couple of contemporary artists, live in a beautiful modernist house in London's cosmopolitan and posh Chelsea. Also designed and built by an artist, the house (the third character in the film's triangle) acts at the same time as a labyrinth, a refuge, a prison, a psychological battleground, a cradle of inspiration and a shield against the external world and the inner doubts. As D and H slowly arrive at the painful decision to sell the place, they embark on a painful process of beading farewell to their shared history under the same roof.
---
Direction:

Joanna Hogg

Script:

Joanna Hogg

Cinematography:

Ed Rutherford

Editing:

Helle Le Fevre

Sound:

Jovan Ajder, Howard Peryer

Actors:

Viv Albertine, Liam Gillick, Tom Hiddleston

Production:

BBC Films, Rooks Nest Entertainment, Wild Horses Film Company

Producers:

Gayle Griffiths

Executive producer:

Lizzie Francke, Christine Langan, Ed Wethered, Michael Sackler, Julia Godzinskaya

Format:

DCP

Color:

Color

Production Country:

UK

Production Year:

2013

Duration:

104΄

Contact:

Visit Films, info@visitfilms.com
Joanna Hogg began to incessantly shoot experimental Super 8 films after borrowing a camera from her mentor Derek Jarman. She went on to study direction at the National School of Film and Television and her graduation piece Caprice starred a then-unknown Tilda Swinton. Hogg's depiction of unarguably middle-class characters has prompted some commentators to see her work as spearheading a new type of social realism in British film. In 2019, the Thessaloniki IFF presented a tribute to her work.
Filmography
1986 Caprice (short)
2003 EastEnders: Dot's Story (TV)
2007 Unrelated
2010 Archipelago
2013 Exhibition
2019 The Souvenir
2021 The Souvenir – Part II