Four Dimensions and One Lamp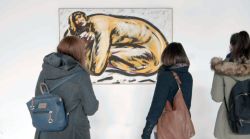 One lamp, one journalist, a cave, an attic, a museum, one lion, three days, four dimensions, ten children, some fairies, a few kilometres and one hundred pieces of corrugated cardboard. Through the challenge of creating a luminaire, two aspiring architects present the process of architectural creation; inspiration, composition, construction.
Screening Schedule
No physical screenings scheduled.
---
Script:

Thanasis Neofotistos

Cinematography:

Fanourios Kazakis

Editing:

Panagiotis Angelopoulos (Imagina)

Sound:

Alejandro Cabrera

Production:

ERT SA

Format:

Greece

Production Country:

Color

Production Year:

2017

Duration:

30

Contact:

ERT Archives archives@ert.gr
Executive Producer: Greek Directors' Guild
Thanasis Neofotistos is a film director, writer and architect from Athens, Greece. Patision Avenue had its world premiere at the 75th Venice Film Festival. He is currently working on his debut feature film Peter & The Wolf.
Filmography
2013 The Sun and the WInd (short)
2014 Prosefhi Greek School Prayer (short)
2015 Pogoniskos (short doc)
2017 Four Dimensions and One Lamp (short doc)
2018 Patision Avenue (short)