You Have the Night
Ti imaš noć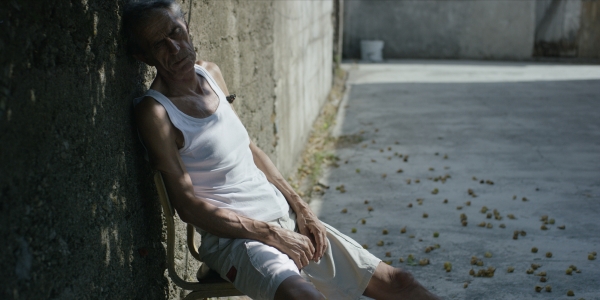 After losing her job as a hostess aboard a ship, Sanja finds herself stranded, with nowhere to go but home. Returning to her small coastal hometown in Montenegro, she discovers the shipyard has filed for bankruptcy, leaving many people out of work. Boats covered with tarpaulin are scattered around the forgotten landscape, set aside for better days. A storm comes and one life is lost, while Luka waits for the night in the woods, a night in which everything could change.
---
Direction:

Ivan Salatić

Script:

Ivan Salatić

Cinematography:

Ivan Marković

Editing:

Jelena Maksimović

Sound:

Jakov Munižaba, Nikola Medić

Actors:

Ivana Vuković, Momo Pićurić, Luka Petrone, Nikola Stojanović, Jasna Djuričić, Boris Isaković

Production:

Meander Film

Producers:

Jelena Angelovski, Dušan Kasalica

Co-production:

Non-Aligned Films

Co-producers:

Stefan Ivančić

Costumes:

Lidija Andrić

Format:

DCP

Color:

Color/B&W

Production Country:

Montenegro, Serbia, Qatar

Production Year:

2018

Duration:

82΄

Contact:

Pascale Ramonda, pascale@pascaleramonda.com
Ivan Salatić was born in Dubrovnik in 1982 and grew up in Herceg Novi. After finishing art school in Belgrade, he started getting involved in film. He graduated from the Faculty of Dramatic Arts in Cetinje. With his short films, in which he combines documentary and fiction, he participated in many international festivals, most importantly in the Venice Festival 2015 with his short film Backyards. He has completed the Master Film Studies at the HFBK in Hamburg and is currently working on the finalization of one fiction and one documentary feature.
Filmography
2013 Intro | Intro (short)
2014 Zakloni | Shelters (short)
2015 Daljine | Heavens (short)
2015 Dvorišta | Backyards (short)
2018 Sinovi smo tvog stijenja | We Αre the Sons of Your Rocks (doc)
2018 Ti imaš noć | You Have the Night