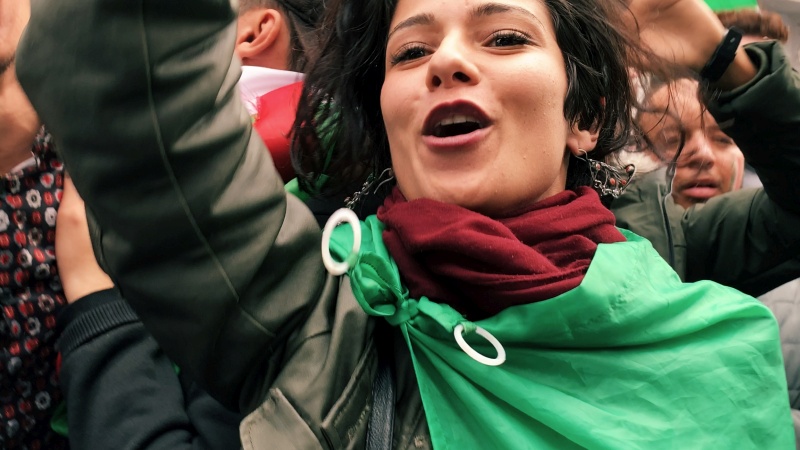 Algeria, February 2019. A popular pacifist uprising erupts against the candidacy of president Bouteflika for a 5th term, steadily swelling into a revolution. Shot on the 8th of March 2019, International Women's Day, the film draws a vibrant portrait of a young woman as she joins thousands of protesters in the streets of Algiers, fighting to overthrow a regime that has silenced them for decades. Αs we follow her trailing along her country's march towards a brighter future, our heart starts beating to the pulse of the roaming streets.
---
Direction:

Karim Aϊnouz

Cinematography:

Juan Sarmiento G.

Editing:

Ricardo Saraiva

Sound:

Sebastian Morsch (sound design), Ilyas Mohamed Guetal

Production:

MPM Film, Watchmen Productions, Show Guest Entertainment, Inflamável

Producers:

Marie-Pierre Macia, Christopher Zitterbart, Claire Gadéa, Richard Djoudi, Janaina Bernardes

Format:

Digital File

Color:

Color

Production Country:

Algeria, France, Germany. Brazil, Qatar

Production Year:

2020

Duration:

82΄

Contact:

MPM PREMIUM, Natsuki Lambert, Quentin Worthington

Awards/Distinctions:

Amnesty International Human Rights Award – Medfilm Festival
Filmography
2002 Madame Satã (fiction)
2011 Silver Cliff (fiction)
2018 Central Airport THF
2020 Nardjes A.