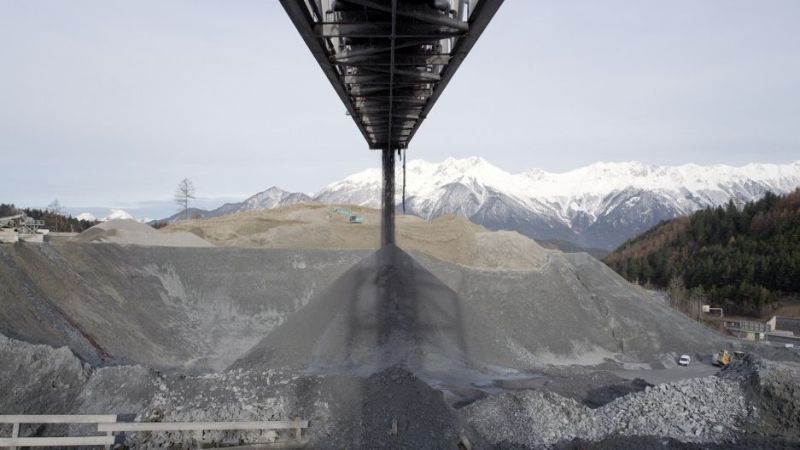 If Earth is understood as a living organism, soil is its most delicate organ. Humankind, the ecosystem's imponderable factor and major destructive force, has not ceased to inflict wounds upon the Earth's skin over the last centuries. Whether by shovels, excavators or dynamite, several billion tons of earth are removed each year from their natural surroundings and habitat. An insightful and thought-provoking documentary that navigates through mines, quarries, and building sites, displaying the planet's scarring. A seven-chapter warning bell over the massive consequences that lie ahead of us.
Screening Schedule
No physical screenings scheduled.
---
Direction:

Nikolaus Geyrhalter

Cinematography:

Nikolaus Geyrhalter

Editing:

Niki Mossböck

Sound:

Pavel Cuzuioc, Simon Graf, Lenka Mikulová, Hjalti Bager-Jonathansson, Nora Czamler

Production:

NGF - Nikolaus Geyrhalter Filmproduktion

Producers:

Michael Kitzberger, Markus Glaser, Wolfgang Widerhofer, Nikolaus Geyrhalter

Executive producer:

Michael Kitzberger

Format:

DCP

Color:

Color

Production Country:

Austria

Production Year:

2019

Duration:

115'

Contact:

Nikolaus Geyrhalter FIlmproduktion

Awards/Distinctions:

Best Documentary – Austrian Film Award 2020, Prize of the Ecumenical Jury – Berlinale Forum 2019, International Award – Sheffield IDF 2019, Best Green Dox Award – Dokufest 2019, Special Award for Best Film on the Topic of Soil – Innsbruck Nature FF 2019, Harrell Award – Camden IFF 2019, Special Mention – Barcelona Independent FF 2019, Best Sound Design Documentary – Festival of Austrian Film 2019
Nikolaus Geyrhalter is a director, producer, and cameraman, born in Vienna in 1972. In 1994, when he was 22 years old, he founded his own production company Nikolaus Geyrhalter Filmproduktion which focuses on documentaries and amateur fiction. He made his first film, Eisenerz, in 1992. Two years later, he shot his first documentary, Washed Ashore (1994) narrating a story about the river Danube and often strange idiosyncrasies of the people who live along its banks. Geyrhalter's static-camera, well-paced observational films tackle their subjects head-on, whether it's exploring the terrain in Chernobyl, Ukraine (Pripyat, 1999), tracing the route of the Dakar Rally (7915 KM, 2008), or investigating the production of processed foods (Our Daily Bread, 2005). In 2003, he received the Austrian State Award for Film Art and in 2008 his film Our Daily Bread won the Grimme Prize. Throughout the years, his films were nominated for and won numerous other awards in the world's most renowned festivals, including (among others) IDFA, the Berlinale, Jihlava International Documentary Film Festival, IndieLisboa, DocSheffield, Cinéma du Réel, Diagonale, and, most recently, Locarno.
Filmography
1994 Washed Ashore
1997 The Year After Dayton
1999 Pripyat
2001 Elsewhere
2005 Our Daily Bread
2008 7915 KM
2010 Allentsteig (TV)
2011 Abendland
2012 Danube Hospital (TV)
2013 Cern (TV)
2015 Over the Years
2016 Homo Sapiens
2018 The Border Fence
2019 Earth
2022 Matter Out of Place