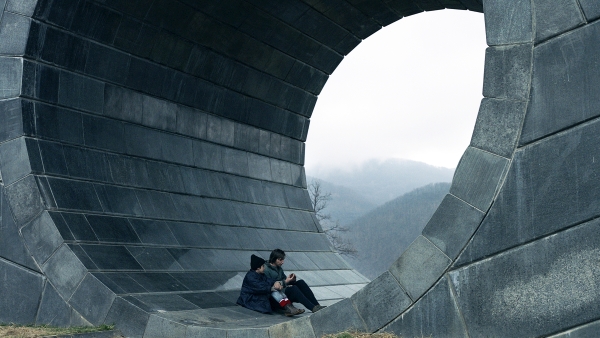 Vlada works as a truck driver during the NATO bombing of Serbia in 1999. Tasked with transporting a mysterious load from Kosovo to Belgrade, he drives through unfamiliar territory, surrounded by different expressions of war. When his job is over, Vlada needs to return home and face the consequences of his actions. A stark look on the baggage of contemporary history and the role of banality of evil in recent war crimes, featuring an amazing protagonist walking the line from defense to guilt and back.
---
Direction:

Ognjen Glavonić

Script:

Ognjen Glavonić

Cinematography:

Tatjana Krstevski

Editing:

Jelena Maksimović

Sound:

Jakov Munižaba

Actors:

Leon Lučev, Pavle Čemerikić, Tamara Krcunović, Ivan Lučev, Igor Benčina, Radoje Čupić, Jovo Maksić

Production:

Non-Aligned Films

Producers:

Dragana Jovović, Stefan Ivančić, Ognjen Glavonić, Sophie Erbs

Co-production:

Cinéma Defacto, Kinorama, Three Gardens Film

Co-producers:

Ankica Jurić Tilić, Pouria Heidary Oureh, Tom Dercourt

Sets:

Zorana Petrov

Format:

DCP

Color:

Color

Production Country:

Serbia, France, Croatia, Iraq, Qatar

Production Year:

2018

Duration:

98΄

Contact:

New Europe Film Sales, jan@neweuropefilmsales.com

Awards/Distinctions:

Heart of Sarajevo for Best Actor – Sarajevo IFF 2018 Special Jury Award – Sakhalin IFF 2018 Blue Angel Award for Best Director – Art Film Fest Košice 2018 Special Jury Mention – Molodist IFF 2018
Ognjen Glavonić was born in 1985 in Pančevo, SFR Yugoslavia. Zivan Makes a Punk Festival (2014), his first documentary, had its premiere at Cinéma du Réel and has been screened at International Film Festival Rotterdam, CPH:DOX and IndieLisboa, among others. His documentary Depth Two (2016) had its premiere in the Forum section at the Berlinale. He is the founder of Pančevo Film Festival. The Load is his first feature film.
Filmography
2010 Ritam gitara, prateci vokal | Rhythm Guitar, Back Vocals (short)
2014 Živan pravi pank festival | Zivan Makes a Punk Festival (doc)
2016 Dubina dva | Depth Two (doc)
2018 Teret | The Load