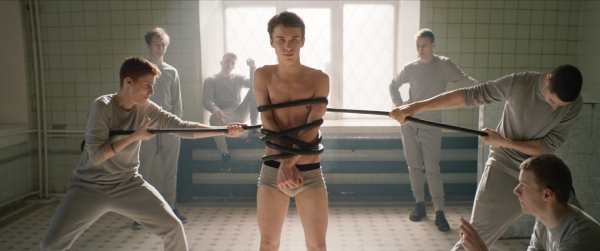 Denis is a superhero like no other: he was raised in an orphanage and learnt how to be popular to other kids by using his unique powers of pain immunity. One day, his mother turns up and takes him with her, in a community that has found a dodgy way to earn money by tricking rich people. Denis becomes a "jumpman," someone who jumps in front of cars to blackmail the drivers. As his physical and emotional wounds get healed, he starts feeling like a human being again, experiencing all sorts of suffering from people who are ready to destroy the foundations of society – wearing a smile, without a single sign of discomfort.
---
Direction:

Ivan I. Tverdovsky

Script:

Ivan I. Tverdovsky

Cinematography:

Denis Alarcon-Ramirez

Editing:

Ivan I. Tverdovsky

Sound:

Jonas Maksvytis

Music:

Kirill Richter

Actors:

Denis Vlasenko, Anna Slyu, Pavel Chinaryov,Vilma Kutaviciute, Alexandra Ursulyak

Production:

New People Company, Film and Music Entertainment, UAB Tremora, Arizona Productions

Producer/Producers:

Natalia Mokritskaya, Uliana Savelieva, Mila Rozaneva, Mike Downey, Samantha Taylor, Ieva Norvielene, Guillaume de Seille

Art Direction:

Olga Kovalenko, Ekaterina Sheglova

Format:

DCP

Color:

Color

Production Country:

Russia, Ireland, Lithuania, France

Production Year:

2018

Duration:

86΄

Contact:

New Europe Film Sales, ewa@neweuropefilmsales.com
Ivan I. Tverdovsky was born in 1988 and graduated from the Russian Institute for Cinematography in 2011. His fiction debut Corrections Class won over 35 prizes worldwide, including the Audience Award at the 55th Thessaloniki IFF. His first two features participated in over 30 international film festivals, winning awards.
Filmography
2009 As if Waiting for a Bus (doc)
2012 Pianism (doc)
2013 Space Dog (doc)
2014 Klass korrektsii | Corrections Class
2016 Zoologiya | Zoology
2018 Podbrosy | Jumpman