Murder Me, Monster
Muere, Monstruo, Muere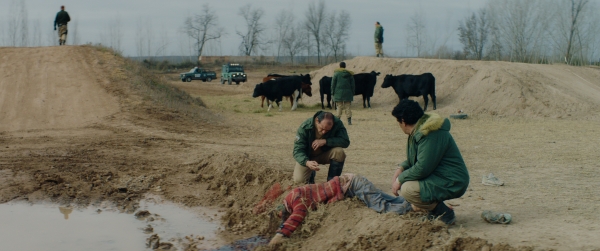 A headless body that is found in a remote region by the Andes Mountains agitates the local society, and particularly three people shaping a love triangle: David, the main suspect, who claims that "a monster" did it; Francisca, his wife; and Cruz, her lover and the policeman who handles the case. Yet this is merely the (triangular) tip of the iceberg in an absurdly geometrical, settled world, where the banal lives side by side with the unreal. A horror film where "horror" is nothing but the inverted image of freedom.
---
Direction:

Alejandro Fadel

Script:

Alejandro Fadel

Cinematography:

Julián Apezteguía, Manuel Rebella

Editing:

Andrés P. Estrada

Sound:

Santiago Fumagall

Music:

Alex Nante

Actors:

Victor Lopez, Esteban Bigliardi, Tania Casciani, Romina Iniesta, Sofia Palomino, Francisco Carrasco, Stéphane Rideau, Jorge Prado

Production:

La Unión de los Riós, Rouge International, UProduction, Cinestación

Producer/Producers:

Agustina Llambi-Campbell, Alejandro Fadel, Fernando Brom, Julie Gayet, Antoun Sehnaoui, Nadia Turincev, Jean-Raymond Garcia, Benjamin Delaux, Édouard Lacoste, Dominga Sotomayor, Omar Zúñiga

Co-production:

Frutacine

Art Direction:

Laura Caligiura

Costumes:

Florencia Caligiuri

Executive producer:

Agustina Llambi Campbell

Camera:

Julián Apezteguía, Manuel Rebella, Jonás Costa

Make Up:

Alberto Moccia

Format:

DCP

Color:

Color

Production Country:

Argentina, France, Chile

Production Year:

2018

Duration:

109΄

Contact:

The Match Factory, info@matchfactory.de
Alejandro Fadel was born in Mendoza, Argentina in 1981. In 2003 he co-directed Love (First Part) that premiered in Venice Critics' Week. The Wild Ones (2012), his first feature as a writer and director, was premiered and awarded at Cannes Critics' Week. His short film Gallo Rojo, co-directed with Zamo Mkhwanazi, opened at the 2016 Cannes Directors' Fortnight. Murder Me, Monster (2018), selected for Cannes Film Festival Official Selection "Un Certain Regard," is his second feature as a writer and director. Since 2011 he's a founding member and partner in the production company La Unión de los Ríos, based in Buenos Aires.
Filmography
1999 La familia Peterson
2000 Qué hacemos con Pablito? (short)
2002 Sábado a la noche, domingo a la mañana
2002 Felipe (short)
2002 Bolero
2012 The Wild Ones
2018 Muere, Monstruo, Muere | Murder Me, Monster