Too Late to Die Young
Tarde Para Morir Joven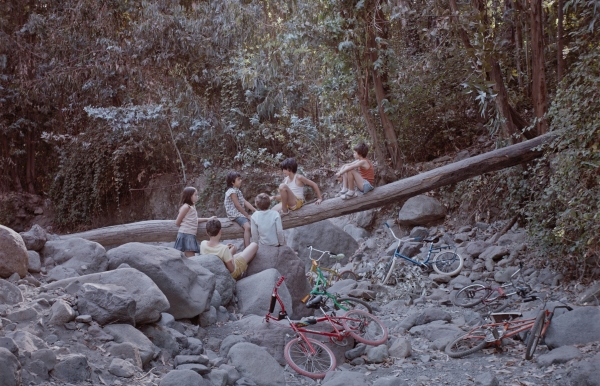 In the early 1990s in Chile, a small group of families builds an autonomous community on the foothills of the Andes, far from the comforts of civilization. In this earthly version of utopia, three teenagers grow up with acceleration, eagerly waiting for the time they won't be depending on their parents, in a country that is about to turn the page after the end of the Pinochet dictatorship. Αn inmost sensorial wandering through the landscapes of memory, where every wall or physical border has collapsed, becomes a collective portrait of a generation that learned to live with the melancholy of personal and political illusions.
---
Direction:

Dominga Sotomayor

Script:

Dominga Sotomayor

Cinematography:

Inti Briones

Editing:

Catalina Marin

Sound:

Julia Huberman

Music:

Sokio

Actors:

Demian Hernández, Antar Machado, Magdalena Tótoro, Matías Oviedo, Andrés Aliaga, Antonia Zegers, Alejandro Goic, Mercedes Mujica, Eyal Meyer, Gabriel Cañas, Michael Silva

Production:

Cinestacion, RT Features

Producers:

Rodrigo Teixeira, Dominga Sotomayor

Co-production:

Ruda Cine, Circe Films

Co-producers:

Violeta Bava, Rosa Martínez Rivero, Stienette Bosklopper, Lisette Kelder, Inti Briones

Art Direction:

Estefania Larraín

Costumes:

Felipe Criado, Estefania Larraín

Executive producer:

Omar Zúñiga, Sophie Mas, Daniel Pech

Camera:

Alexa Mini

Format:

DCP

Color:

Color

Production Country:

Chile, Brazil, Argentina, The Netherlands, Qatar

Production Year:

2018

Duration:

110΄

Contact:

Stray Dogs, lison@stray-dogs.com

Awards/Distinctions:

Βραβείο Σκηνοθεσίας – Locarno IFF 2018
Dominga Sotomayor studied Audiovisual Directing at Universidad Católica de Chile, and did a Masters in Directing at ESCAC in Barcelona. She developed her first feature Thursday till Sunday at the Cannes Cinéfondation Residence. The film won the Tiger Award in Rotterdam in 2012 and was screened in more than a hundred festivals (including Thessaloniki). She has worked in videos and photographs for visual art exhibitions. She co-founded Cinestación, a leading production company based in Santiago where she produces auteur filmmaking in Latin-America. She also co-founded CCC, Centro de Cine y Creación, a cultural centre and arthouse cinema scheduled to open in Santiago de Chile in 2019.
Filmography
2008 Debajo | Below (short)
2009 Videojuego | Videogame (short)
2012 De Jueves a Domingo | Thursday till Sunday
2014 Mar
2015 Los Barcos | The Boats (short)
2018 Tarde para morir joven | Too Late to Die Young