The Souvenir
The Souvenir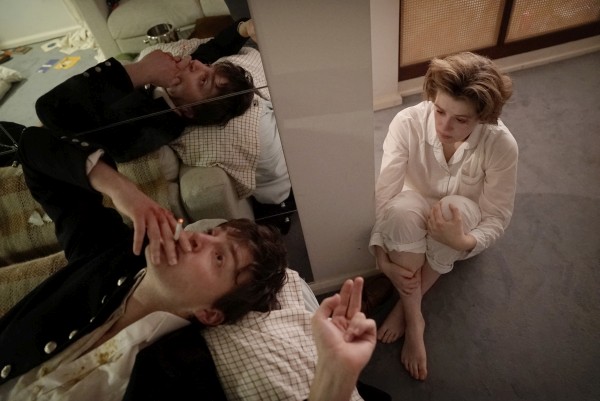 A shy film student begins to find her voice as an artist when she gets engaged in a turbulent courtship with a charismatic but untrustworthy man, breaking free of her overprotective mother and pretentious friends. Gradually though, she slips deeper and deeper into a toxic and emotionally fraught relationship that comes dangerously close to upending her dreams and ambitions. A dive into the soul of the artist, as well as a study on female idiosyncrasy, which combines the virtue of subtle innuendos with exquisite aesthetics, into an evocative and seductive story of late adulthood and painful first love.
---
Direction:

Joanna Hogg

Script:

Joanna Hogg

Cinematography:

David Raedeker

Editing:

Helle Le Fevre

Actors:

Honor Swinton Byrne, Tom Burke, Tilda Swinton

Production:

BBC Films, BFI

Producers:

Joanna Hogg, Luke Schiller

Costumes:

Grace Snell

Executive producer:

Martin Scorsese, Emma Tillinger Koskoff

Make Up:

Siobhán Harper-Ryan

Format:

DCP

Color:

Color

Production Country:

UK

Production Year:

2019

Duration:

115΄

Contact:

Protagonist Pictures, info@protagonistpictures.com

Awards/Distinctions:

Grand Jury Prize (World Cinema - Dramatic) – Sundance 2019
Joanna Hogg began to incessantly shoot experimental Super 8 films after borrowing a camera from her mentor Derek Jarman. She went on to study direction at the National School of Film and Television and her graduation piece Caprice starred a then-unknown Tilda Swinton. Hogg's depiction of unarguably middle-class characters has prompted some commentators to see her work as spearheading a new type of social realism in British film. In 2019, the Thessaloniki IFF presented a tribute to her work.
Filmography
1986 Caprice (short)
2003 EastEnders: Dot's Story (TV)
2007 Unrelated
2010 Archipelago
2013 Exhibition
2019 The Souvenir
2021 The Souvenir – Part II