The Surface of Things
Η επιφάνεια των πραγμάτων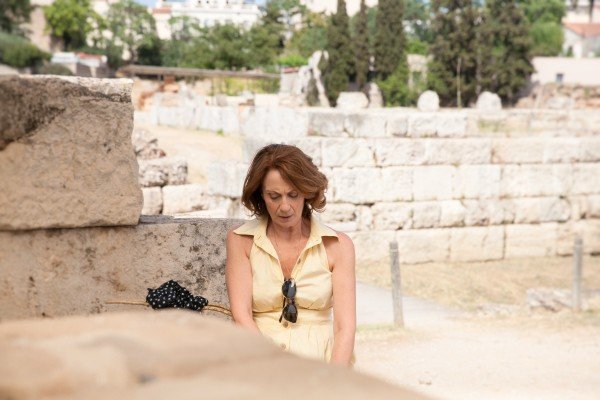 There is an urban legend in
Athens about Errinyos, an ancient underground river that nobody
ever saw but which, one day during the 80s, came back to life and swept a girl away. Today a young anthropologist is researching the legend and locates the people who knew the girl. They are her three best friends, now in their 40s, and their history teacher, who is now retired. Through bits and pieces of letters, tapes and interviews, these women narrate the tragic story that took place 
30 years ago and marked their 
lives as well as the city's collective memory.
---
Direction:

Nancy Biniadaki

Script:

Nancy Biniadaki, based on the novel Tesseris Martyries gia tin ektafi tou Potamou Errinyou by Angela Dimitrakaki

Cinematography:

Dionysis Efthymiopoulos

Editing:

Panos Voutsaras

Sound:

Yannis Antipas, Tim Altrichter

Music:

Alexander Müll

Actors:

Maria Skoula, Maria Kallimani, Themis Bazaka, Marisha Triantafyllidou, Sofia Ito, Rania Economidou, Nicolas Antipas, Michael Sideris, Toni Jessen

Production:

Watchmen productions

Producers:

Christopher Zitterbart

Co-production:

Heretic

Costumes:

Triada Papadaki

Sets:

Margarita Hatziioannou

Make Up:

Evi Zafiropoulou, Rebecca Koch

Format:

DCP

Color:

Color

Production Country:

Germany, Greece

Production Year:

2017

Duration:

85΄

Contact:

Christopher Zitterbart
Nancy Biniadaki was born in Athens in 1971. She lives in Berlin.
She studied Greek Philology and Film Direction. She has worked in theatre, opera, has directed various shorts, stage plays, videos for the stage and documentaries. She has received the Melina Merkouri Award (1998) and the Grimme-Preis Award (Germany, 2016).
Filmography
1995 Between Cities (short)
1998 Still Counting (μμ)
2000 Always last night (short)
2015 The Moon and I (μμ)
2017 The Surface of Things