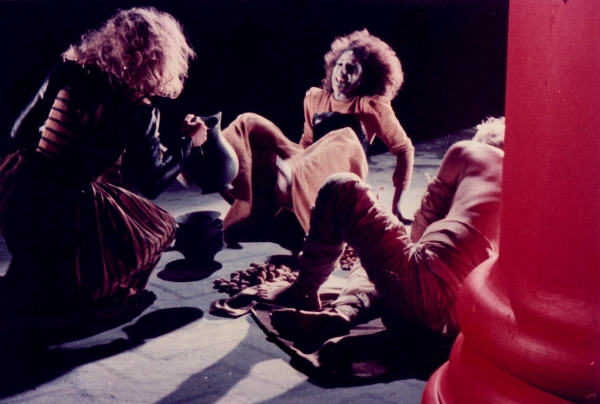 A parable on place and time. A game of metamorphoses. A passage after death, a second death. A woman gives birth and dies. At the moment of death, her face disintegrates and assumes the aspects of those who stand by her bed. Her body is torn by the conflicts of those who inhabit it and her voice dissolves into many voices and many roles.
---
Direction:

Antoinetta Angelidi

Script:

Antoinetta Angelidi, Clairi Mitsotaki

Cinematography:

Stavros Hassapis

Editing:

Andonis Tempos

Sound:

Thanassis Georgiadis

Music:

Yorgos Apergis, Music Improvisations: Μartine Viard

Actors:

Jany Gastaldi, Maya Lyberopoulou, Annita Sandorineou, Μartine Viard, Clairi Mirtseki, Arietta Moutoussi, Stavros Tornes, Takis Moschos, Akis Davis, Stefanos Kotsikos

Producer/Producers:

Antoinetta Angelidi

Art Direction:

Antoinetta Angelidi

Costumes:

Lily Kendaka

Sets:

Costas Angelidakis

Make Up:

Achilleas Haritos

Format:

35mm

Color:

Color

Production Country:

Greece

Production Year:

1985

Duration:

80'

Contact:

Antoinetta Angelidi, antangelidi@yahoo.gr

Awards/Distinctions:

Special Prize, Award for Best Sound and Greek Film Critics' Association Award – Thessaloniki Film Festival 1985, Greek Culture Ministry's State Quality Award
Film director and visual artist. Studied Architecture in Athens; Film Directing and Editing at IDHEC in Paris; and Film Theory with Christian Metz. Her films were screened in international film festivals and contemporary art museums. Uses art history and her dreams as raw material, while dream-mechanism and the uncanny constitute her main creative strategies. Has taught in the Film School at the Aristotle University of Thessaloniki and at the Universities of Patras, Thessaly and the Aegean. Retrospective tribute to her work in the 46th International Thessaloniki Film Festival.
Filmography
1975 L'Histoirecrite (short)
1976 L'Eau (short)
1981 The Gift (short)
1977 Idées Fixes / Dies Ιrae
1985 Topos
1995 The Hours
2001 Thief of Reality
2006 Noon Hour (short)
2007 Metamorphosis OFBY AA (short)
2007 Knot-not–Knot (short)
2008 121280 Ritual (short)
2013 Tears Sins (short)
2013 Encore- (short)