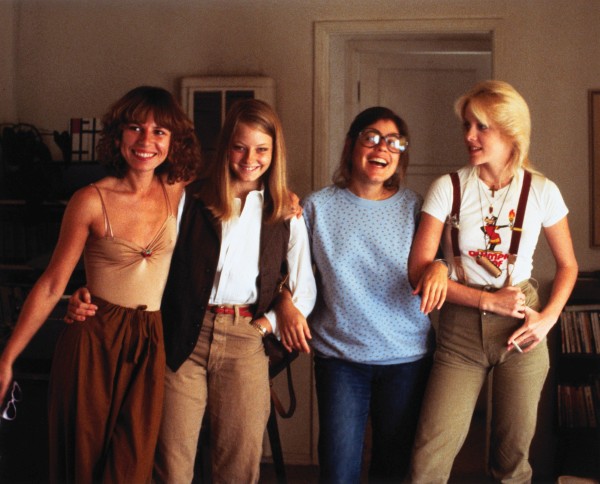 Four girls grow up dangerously in LA's San Fernando Valley. In his debut movie, overlooked stylist Adrian Lyne produced the most real, most exciting girl group in cinema. Jodie Foster and Cherie Currie of the Runaways, Giorgio Moroder's amazing soundtrack, the transition from the 70s to the 80s and the start of teen movie mania.
---
Direction:

Adrian Lyne

Script:

Gerald Ayres

Cinematography:

Leon Bijou, Michael Seresin

Editing:

Jim Coblentz

Sound:

Gerry Hambling, Kirk Francis

Music:

Giorgio Moroder

Actors:

Jodie Foster, Cherie Currie, Marilyn Kagan, Kandice Stroh, Scott Baio, Sally Kellerman, Randy Quaid

Production:

Casablanca Filmworks

Producers:

David Puttman, Gerald Ayres

Art Direction:

Michel Levesque

Costumes:

April Ferry

Camera:

Paul Ryan, Ralph Gerling

Make Up:

Ken Wensevic

Format:

DCP

Color:

Color

Production Country:

USA

Production Year:

1980

Duration:

106΄

Contact:

Park Circus Ltd, info@parkcircus.com
Born in Peterborough, England, and raised in London, Andrian Lyne attended the Highgate School, where his father was a teacher. An avid moviegoer during his school days, he was inspired to make his own films by the work of French New Wave directors like Godard, Truffaut, and Chabrol. He made his feature filmmaking debut in 1980 with Foxes, a perceptive look at the friendship of four teenage girls growing up in Los Angeles's San Fernando Valley, starring Jodie Foster. His next film, Flashdance, an innovative blend of rock 'n' roll, new dance styles, and breathtaking imagery, created a sensation in 1983. His filmography includes some of the most talked-about movies of our time, among them, Fatal Attraction, 9 1/2 Weeks, Indecent Proposal, and Jacob's Ladder.
Filmography
1980 Foxes
1983 Flashdance
1986 9½ Weeks
1987 Fatal Attraction
1990 Jacob's Ladder
1993 Indecent Proposal
1997 Lolita
2002 Unfaithful