Magic Skin
Το μαγικό δέρμα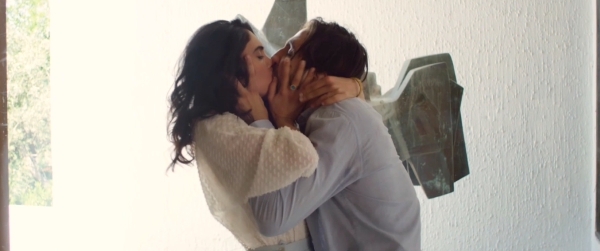 Running away from a life filled with failure and rejection, Nikos desperately dives into the dark waters of human desire, after closing a faustian pact. He is given an old piece of animal skin that promises its owner everything, but at a high price - his life. As he steadily steps down the spiral of madness, Nikos wonders if he could ever wake up from a life that more and more resembles a dream. A contemporary, radical outlook on Balzac's classic novel.
---
Direction:

Konstantinos Samaras

Script:

Konstantinos Samaras, based on the novel of the same title by Honoré de Balzac

Cinematography:

Thodoris Mihopoulos

Editing:

Yorgos Zafiris

Sound:

Stefanos Efthymiou

Music:

Kornilios Selamsis

Actors:

Haris Fragoulis, Anthi Efstratiadou, Jenny Theona, Andreas Kontopoulos, Υannis Bezos, Aggelos Papadimitriou, Haris Romas, Betty Arvaniti, Costas Vasardanis, Costas Voutsas, Fotini Baxevani, Manolis Spyrou, Dimitris Fragioglou, Alkis Panagiotidis

Production:

Marni Films

Producer/Producers:

Phaedra Vokali

Costumes:

Marli Aliferi

Sets:

Alexandra Neofytou

Make Up:

Ioanna Lygizou

Format:

DCP

Color:

Color

Production Country:

Greece

Production Year:

2018

Duration:

90'

Contact:

Marni Films, info@marnifilms.gr
He was born in Thessaloniki. After completing his studies at the Law School of the Aristotle University, he moved to Paris, where he studied Cinema (Screenwriting & Direction) at Sorbonne and worked as director for several clips and documentaries. He has also worked as film critic for magazines, as programmer at Athens International Film Festival and as assistant director next to important Greek and French filmmakers, such as Benoît Jacquot, Nikos Panayiotopoulos, and Panos Koutras.
Filmography
2008 Gloria (short)
2010 L'Imperméable rouge (short)
2012 Quiet Nights (short)
2014 Three Eggholders almost Four (short)
2018 The Magic Skin