Murder Backstage
Έγκλημα στα παρασκήνια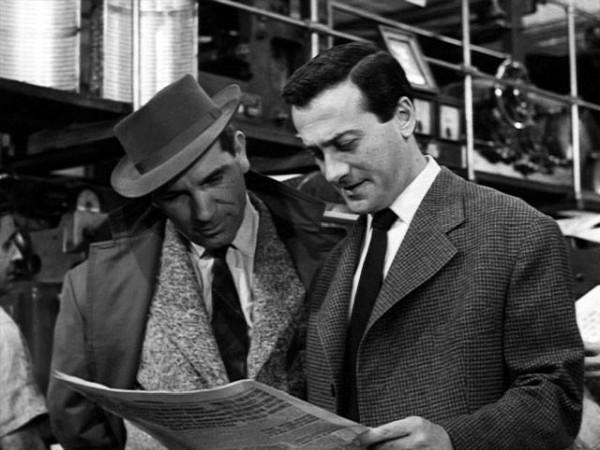 Rosa Delli, an actress notorious for her scandalous love affairs, is found stabbed to death in her dressing room. The case is handled by Inspector Bekas (Titos Vandis), who has to answer the following questions: who killed her and how, given that the door was locked on the inside? A magical world of mystery and seductive glamour emerges from the shadows of this archetypal film noir, among the best of its kind in Greece, which was shown in the Official Program of the Cannes Film Festival in 2001.
Screening Schedule
No physical screenings scheduled.
---
Direction:

Dinos Katsouridis

Script:

Yannis Maris, based on the novel Murder Backstage

Cinematography:

Aristeidis Karydis-Fuchs

Editing:

Dinos Katsouridis

Sound:

Ioannis Smirnaios

Music:

Mimis Plessas

Actors:

Alekos Alexandrakis, Maro Kodou, Christos Tsaganeas, Titos Vandis, Aliki Georgouli, Zorz Sarri

Production:

Tehni A.C., Damaskinos - Michaelides

Producers:

Manolis Nikoloudis

Sets:

Marilena Aravantinou

Make Up:

Ilias Psaradakis

Format:

ProREs

Color:

B&W

Production Country:

Greece

Production Year:

1960

Duration:

80΄

Contact:

Karayannis Karatzopoulos, karkarae@otenet.gr

Awards/Distinctions:

Best Cinematography, Best Supporting Actress – Thessaloniki FF 1960
Dinos Katsouridis was a Cypriot film editor, cinematographer and, from 1960 onwards, director. He graduated from the Athens University of Economics and Business in 1947 and was admitted to law school, which, however, he did not complete due to his "social opinions". In 1951 he graduated from the Stavrakos School, while also working as a cinematography teacher. He was a principal member of Finos Film for eight years. He directed Thanassis Vengos in nine successive movies from 1970 to 1982. The most important were What Did You Do in the War, Thanassis?, which won three awards at the Thessaloniki Festival for Best Actor, Best Screenplay and Best Cinematography, and Thanassis, Get Your Gun, awarded Best Actor and an Honorary Distinction for Tassos Zographos's sets at the same Festival. One of Katsouridis's most important contributions to Greek cinema was the film Tis Kakomiras (1963), with the famous Zikos, played by Kostas Hatjichristos. In 2000, at the 41st Thessaloniki Film Festival, Dinos Katsouridis was honoured with the Golden Alexander Award for his contribution to cinema. He died in 2011 after a battle with cancer.
Filmography
1960 Murder Backstage
1965 The Ruthless
1970 One Vegos to Do Everything
1971 What Did You Do in the War, Thanasis?
1972 Thanasis, Take Your Gun
1979 O falakros mathitis
1980 Vengos, o trellos kamikaze
1982 Thanasis and the Cursed Serpent
1987 A Leftish Night's Dream