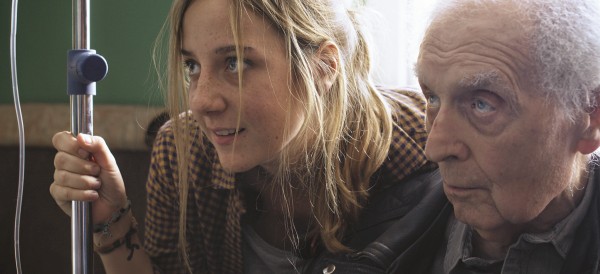 Angie, refuses to let her grandfather – an ex-Biker who suffers from dementia – be taken to a nursing home for his last days. Just as he is about to go, she locks herself in his room with him and proceeds to a final act of love.
Screening Schedule
No physical screenings scheduled.
---
Direction:

Giorgos Kapsanakis

Script:

Giorgos Kapsanakis, Oliver Morriss

Cinematography:

Angelos Tzouanakis

Editing:

Benjamin Lingard-Lane

Sound:

Zainah Loulou

Music:

Nikos Giannakakis, Jimmy Gian

Actors:

Eleanor Inglis, Alfred Hoffman, George Dillon

Producers:

Simone Ceresato, Giorgos Kapsanakis

Sets:

Lidia Rzeznik

Format:

DCP

Color:

Color

Production Country:

UK

Production Year:

2019

Duration:

10´

Contact:

Giorgos Kapsanakis, giorgoskapsanakis@hotmail.com

Awards/Distinctions:

Honorary Distinction for Original Music – Drama Short FF 2019
Giorgos Kapsanakis was born in Athens in 1992. He graduated from the Department of Cultural Technology and Communication of the University of the Aegean in 2016 and started working on television as a director of short documentaries, among other position. In September 2017 he was granted a scholarship from the Onassis Foundation for postgraduate studies in the UK and in September 2018 he completed his Master's in Directing at Bournemouth University. The short-film Chopper is his master's thesis film.
Filmography
2018 An Obsessive Relationship (short)
2018 Shapes of Mine (short)
2019 Chopper (short)