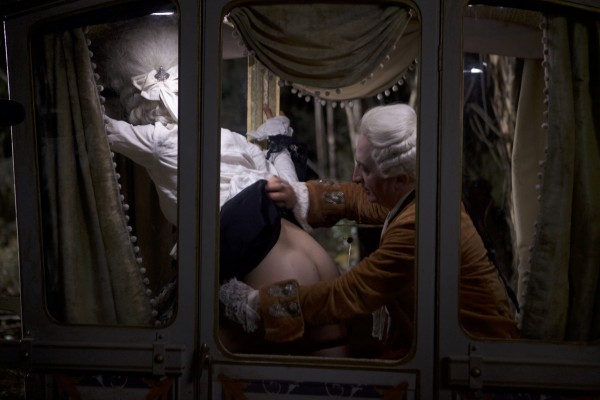 1774, fifteen years before the French Revolution. A group of libertines, ostracized from Louis XVI's palace, seek refuge under the wing of the Duke of Walchen, a renowned liberal and free-thinker. Nevertheless, late 18th century Germany is abundant in puritan hypocrisy and conservative morals, thus a most unsuitable ground for the seed of libertinism to grow. A grotesque and provocative tableau vivant of a decayed Europe, still resisting its mental, moral and sexual liberation.
---
Direction:

Albert Serra

Script:

Albert Serra

Cinematography:

Artur Tort

Editing:

Ariadna Ribas, Albert Serra, Artur Tort

Sound:

Jordi Ribas

Actors:

Helmut Berger, Marc Susini, Baptiste Pinteaux, Iliana Zabeth, Laura Poulvet, Lluís Serrat, Alex Garía Düttman, Théodora Marcadé, Xavi Pérez, Francesc Daranes, Câtâlin Jugravu, Montse Triola

Production:

Andergraun Films, Idéale Audience, Rosa Filmes, Lupa Film

Producers:

Pierre-Olivier Bardet, Joaquim Sapinho, Albert Serra, Montse Triola

Executive producer:

Montse Triola, Claire Lion, Marta Alves, Elisabeth Pawloski

Format:

DCP

Color:

Color

Production Country:

France, Portugal, Spain

Production Year:

2019

Duration:

120΄

Contact:

Films Boutique, contact@filmsboutique.com

Awards/Distinctions:

Special Jury Prize (Un Certain Regard) – Cannes FF 2019
Catalan Albert Serra's films usually depict European myths, as well as landmark historical and literary figures. His film Honour of the Knights was selected by Cahiers du Cinéma as one of the ten best films of 2007. In 2013, a retrospective on Serra's work was screened in Parisian art complex Centre Pompidou. Serra's film Story of My Death was awarded the Golden Leopard at the Locarno Film Festival in 2013.
Filmography
2003 Crespia, the Film Not the Village (short)
2006 Honor de cavalleria | Honour of the Knights
2008 El cant dels ocells | Birdsong
2011 El Senyor ha fet en mi meravelles | The Lord Worked Wonders in Me (doc)
2013 Cuba Libre (short)
2013 Història de la meva mort | Story of My Death
2016 La mort de Louis XIV | The Death of Louis XIV
2019 Liberté | Freedom