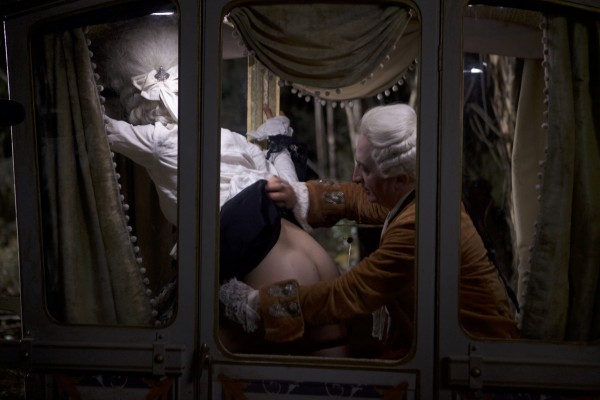 1774, fifteen years before the French Revolution. A group of libertines, ostracized from Louis XVI's palace, seek refuge under the wing of the Duke of Walchen, a renowned liberal and free-thinker. Nevertheless, late 18th century Germany is abundant in puritan hypocrisy and conservative morals, thus a most unsuitable ground for the seed of libertinism to grow. A grotesque and provocative tableau vivant of a decayed Europe, still resisting its mental, moral and sexual liberation.
Screening Schedule
No physical screenings scheduled.
---
Direction:

Albert Serra

Script:

Albert Serra

Cinematography:

Artur Tort

Editing:

Ariadna Ribas, Albert Serra, Artur Tort

Sound:

Jordi Ribas

Actors:

Helmut Berger, Marc Susini, Baptiste Pinteaux, Iliana Zabeth, Laura Poulvet, Lluís Serrat, Alex Garía Düttman, Théodora Marcadé, Xavi Pérez, Francesc Daranes, Câtâlin Jugravu, Montse Triola

Production:

Andergraun Films, Idéale Audience, Rosa Filmes, Lupa Film

Producers:

Pierre-Olivier Bardet, Joaquim Sapinho, Albert Serra, Montse Triola

Executive producer:

Montse Triola, Claire Lion, Marta Alves, Elisabeth Pawloski

Format:

DCP

Color:

Color

Production Country:

France, Portugal, Spain

Production Year:

2019

Duration:

120΄

Contact:

Films Boutique, contact@filmsboutique.com

Awards/Distinctions:

Special Jury Prize (Un Certain Regard) – Cannes FF 2019
Born in Banyoles in 1975, Albert Serra is a Catalan artist and director. Having studied philosophy and literature, he wrote plays and produced different video works. He gained international recognition with his first long feature, Honor of the Knights, a free adaptation of Don Quijote played by non-professional actors from his village. The film was presented at Cannes' Directors' Fortnight in 2006. For his second film, Birdsong, Serra took inspiration from a traditional Catalan Christmas song, El cant dels ocells, and worked with the same group of people to tell the story of the Three Wise Men following their guiding star to find Jesus. In 2013, the Centre Pompidou in Paris gave him a carte blanche for correspondence with the Argentinian director Lisandro Alonso. The same year he received the Golden Leopard in Locarno for his new film Story of my Death, inspired by Casanova's memoirs. The Death of Louis XIV starring Jean-Pierre Léaud as the Sun King was presented in the Official Selection of Cannes Film Festival 2016. Liberté, starring Helmut Berger, Marc Susini, Baptiste Pinteaux, is the cinematic recreation of his 2018 Berlin Volksbühne play of the same name, which won the Special Jury award at the 2019 Un Certain Regard selection at Cannes. In 2022, he returned to Cannes in the Official Competition Section, with Pacifiction.
Filmography
2006 Honor of the Knights
2008 Birdsong
2013 Story of my Death
2016 The Death of Louis XI
2019 Liberté
2022 Pacifiction