The Burnt Orange Heresy
The Burnt Orange Heresy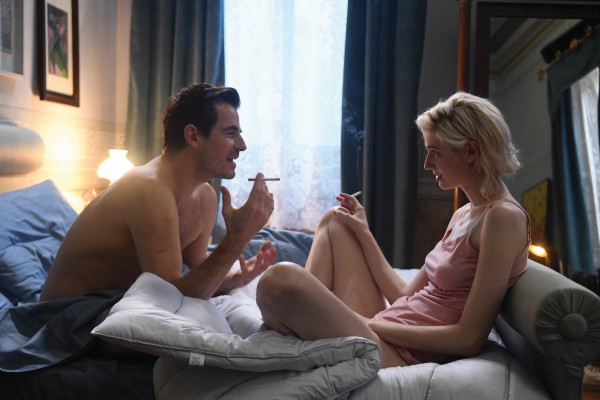 Charismatic art critic James is putting his brains and looks on display to swindle attendees at his paid lectures. He soon hooks up with Berenice, an alluring fellow American touring around Europe, who joins him in a lavish Como estate. Their host, Machiavellian art collector Cassidy, who has long let go of unnecessary baggage such as morals, will set the wheels of fate in motion: he puts an illicit and too good to refuse offer on the table, meant to spiral down in chaos. A polished neo-noir thriller, full of twists and satirical swipes, where beauty and love are either plundered or sold.
---
Direction:

Giuseppe Capotondi

Script:

Scott B. Smith, based on the novel by Charles Willeford

Cinematography:

David Ungaro

Editing:

Guido Notari

Sound:

Alessandro Boscolo

Music:

Craig Armstrong

Actors:

Claes Bang, Elizabeth Debicki, Donald Sutherland, Mick Jagger

Production:

MJZ, Wonderful Films, Rumble Films

Producers:

David Zander, William Horberg, David Lancaster

Costumes:

Gabriella Pescucci

Executive producer:

Sienna Aquilini, Ayesha Walsh, Stephanie Wilcox, Dante Ariola, August Zander, Jon Shiffman, Jonathan Loughran, Alastair Burlingham, Charlie Dombek, Marco Cohen, Benedetto Habib, Fabrizio Donvito, Daniel Campos Pavoncelli, Alessandro Mascheroni, Peter Touche, Vaishali Mistry, Marie-Gabrielle Stewart, Peter Watson, Aris Boletsi

Sets:

Totoi Santoro

Format:

DCP

Color:

Color

Production Country:

UK, Italy

Production Year:

2019

Duration:

98´

Distribution in Greece:

Odeon

Contact:

HanWay Films, info@hanwayfilms.com

Awards/Distinctions:

Fondazione Mimmo Rotella Award – Venice FF 2019
Giuseppe Caopotondi has directed more than 250 TV ads and music videos to date, winning several international awards along the way, including Cannes' Golden Lion. Caopotondi's first feature film The Double Hour premiered in competition at the Venice Film Festival, winning the Best Actress Award. Caopotondi went on to direct two documentaries and several TV episodes for shows such as Epix's Berlin Station, Netflix's Suburra and ITV's Endeavour. The Burnt Orange Heresy is his second feature.
Filmography
1999 Skunk Anansie: Charlie Big Potato (short)
2006 Solomon | Solomon Island (doc)
2009 La doppia ora | The Double Hour
2019 The Burnt Orange Heresy