The Summer with Carmen
Το καλοκαίρι της Κάρμεν
64th TIFF: Greek Premiere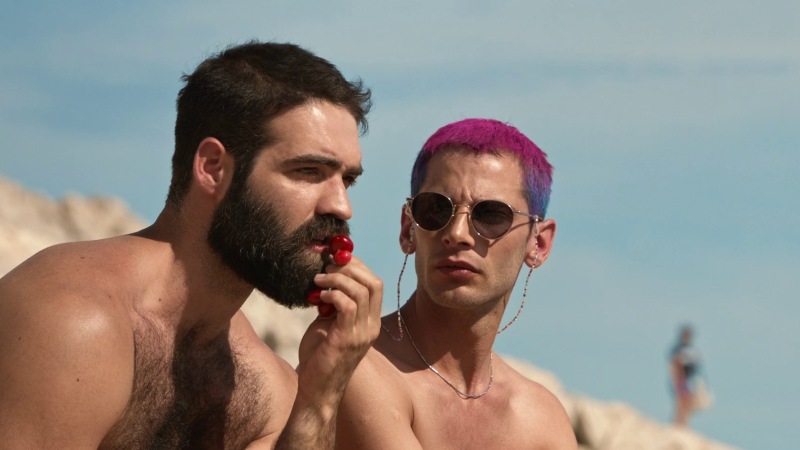 At an Athenian queer beach, Demosthenes helps Niketas build a debut film inspired by a dog named Carmen. Past romances resurface when Demosthenes reconnects with his ex, Panos, who owns Carmen. The two friends question scriptwriting rules, seeking a hero's journey while navigating their enduring bond.
Screening Schedule
No physical screenings scheduled.
---
Direction:

Zacharias Mavroreidis

Script:

Zacharias Mavroeidis, Xenofon Chalatsis

Cinematography:

Theodoros Mihopoulos

Editing:

Livia Neroutsopoulou

Sound:

Stefanos Efthymiou

Music:

Ted Regklis

Actors:

Yorgos Tsiantoulas, Andreas Lampropoulos, Roubini Vasilakopoulou, Nikolas Mihas, Vasilis Tsigristaris

Production:

Atalante S.A

Producers:

Ioanna Bolomyti

Co-production:

Argonauts S.A, ERT S.A, Athens Productions S.A., Be For Films | With the support of: Greek Film Center, EKOME SA

Co-producers:

Giannis Karantanis, Zacharias Mavroeidis

Costumes:

Katerina Zoura

Sets:

Aliki Kouvaka

Format:

DCP

Color:

Color

Production Country:

Greece

Production Year:

2023

Duration:

106'

Distribution in Greece:

Cinobo (Tasos Melemenidis, tasosm@cinobo.com)

Contact:

Be For Films (Pamela Leu, pamela@beforfilms.com)
Agora Works in Progress 2022
Zacharias Mavroeidis is a filmmaker with a diverse background in architecture, theater, scriptwriting, and filmmaking. He co-wrote The Summer with Carmen with Xenofondas Chalatsis, which won the top prize at Thessaloniki IFF's Agora Works In Progress in 2022.
Filmography
2011 The Guide
2018 Across her Body (doc)
2019 Defunct
2023 The Summer with Carmen