Ample humor and camera shots full of fondness and sensitivity set the tone on Friday, March 2, 2018, at the opening ceremony of the 20th anniversary edition of the Thessaloniki Documentary Festival, in a packed Olympion Theatre, and in the presence of politicians, artists and prominent representatives of the audiovisual industry.
The experienced stand up comedians Andreas Paspatis and Ira Katsouda, the evening's hosts, kept the audience attention with their cheerfulness and teasing -besides, as they explained, that is why they were hired- and joshed with speakers and audience.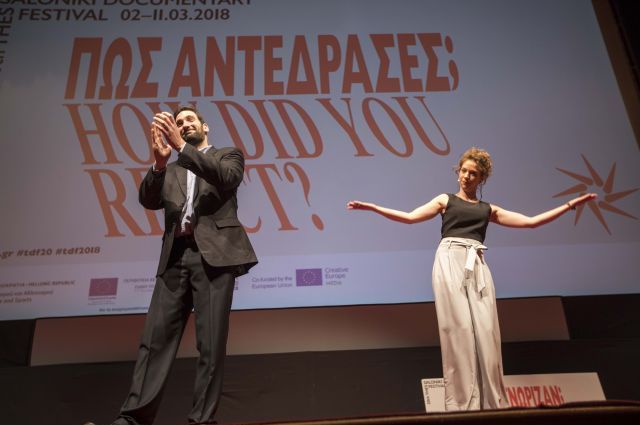 In the TDF's 20th anniversary edition, it would be unfair not to make special mention of the event's "spiritual father", its instigator and creator, Dimitri Eipides, who founded it in 1999 and directed it until 2016. The General Director of the Thessaloniki International Film Festival, Elise Jalladeau, and its Director, Orestis Andreadakis, took the stage, with the latter noting: "It was March 1999 when an enlightened cinema person, a talented person full of passion and innovative ideas, inaugurated in this very room a small event which in only two decades' time managed to become one of the world's biggest documentary festivals. His name is Dimitri Eipides". Mrs Jalladeau, on her part, noted that Dimitri Eipides organized a festival which was gravitated towards the future, a modern, vigorous event embracing all documentary types, in search of artistic quality and linking it to development and the market". Both she and Mr Andreadakis thanked all sponsors and supporters of the 20th TDF.
In a short presentation of the event, Mrs Jalladeau and Mr. Andreadakis noted that this year's festival is celebrating together with Agnès Varda and the opening film Faces Places, directed by her and JR, a nominee for the Academy Award for Best Documentary, as well as this year's special tribute to Varda's work, the tributes to the controversial auteurs Verena Paravel and Lucien Castaing Taylor, and the one to the iconic 1968. Also, with Sara Driver, who selected especially for the 20th TDF her 10 favorite documentaries, as well as the new Virtual Reality documentaries Competition Section.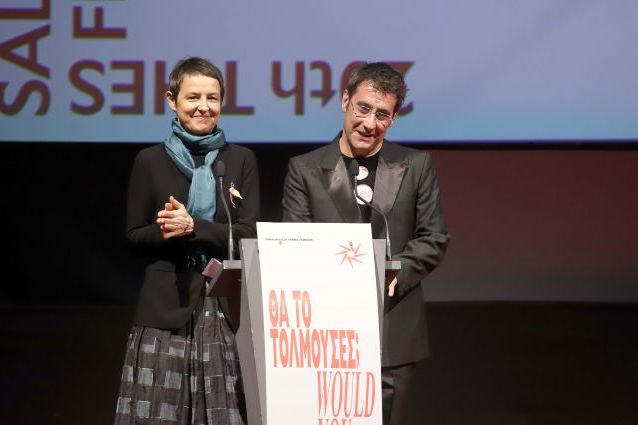 As to the International Competition Section of the 20th TDF, Mrs Jalladeau mentioned that a book was the guide to the selection of the films. "The masterpiece novel by the French Georges Perec Life a User's Manual helped us navigate the wonderful world of puzzles, travels, time, vanity, memory, happiness, life itself. This book's ideas are in the heart of this year's 10 excellent IC documentaries. Are there any user's manuals for life, though? And if yes, what are they? This is what you will find out watching our films", Mr Andreadakis noted.
"Nevertheless, the TDF's biggest goal is to support Greek cinema, Greek documentary. Fifty-three Greek feature documentaries and 25 short ones are included in our program", Mrs Jaladdeau said. On his part, Mr Andreadakis talked about Agora, "the most vigorous and growth-oriented section of TDF, with more than 250 professionals from the global film industry expected in Thessaloniki to prepare tomorrow's cinema", as he noted.
Concluding, Mrs Jalladeau made a "very good announcement about an extra venue. Warehouse C, where TIFF's heart is beating every November, will be a part of the festival all year round. We are particularly happy that this happens during the TDF's 20th anniversary."
Speaking afterwards, the Governor of the Region of Central Macedonia, Apostolos Tzitzikostas, welcomed the audience in Thessaloniki and the TDF, "celebrating this year its 20th anniversary, a period in the course of which it established itself as a global event enlighting the city of Thessaloniki and the whole region of Central Macedonia. Each year it brings out new trends, talented filmmakers and exciting human stories, attracting increasing numbers of documentary friends in Greece and abroad. I am extremely happy to hear that a record number of Greek and foreign filmmakers participate in this year's event". Consequently, Mr Tzitzikostas congratulated the TDF's staff for its important work, and mentioned the Region's support to both events -TIFF and TDF- via EU funding. "Our Region's uttermost priority is for this area to continue producing quality culture and for Thessaloniki to boost its openness. Because there is no doubt that culture is the best means to promoting our city. A vivid creative debate with both the past and the future, which makes our lives more beautiful and brings us closer", he concluded.
Consequently, the Mayor of Thessaloniki Yiannis Boutaris took the stage, escorted by the Deputy Mayor for Tourism and International Relations -and TDF member- Spyros Pegas and the Deputy Mayor for Culture and Arts, Elli Chrysidou. "We are trying to support both TIFF and TDF every way possible, though our meagre means. Twenty years ago, when Dimitri Eipides founded this festival, people mostly believed that documentary is about showing beautiful landscapes and wild animals. Today, documentary means people, the depiction of human conditions. Documentary depicts truths. As the Thessaloniki Municipality, we believe that the festival must be the city", Mr Boutaris said. Mr Pegas on his part noted among others that "the event keeps on attracting  people and remains an open window", while Mrs Chrysidou mentioned that "the city is able to produce things".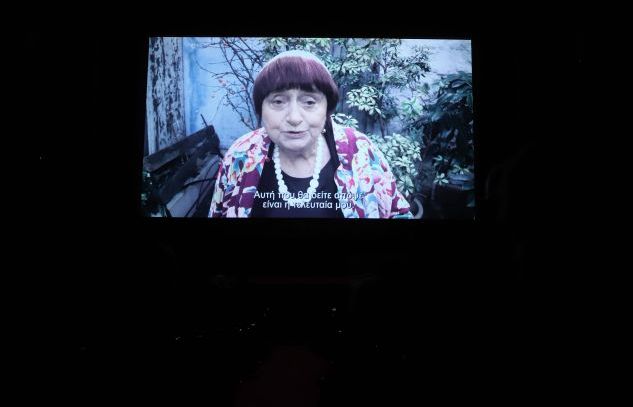 Consequently, in a very beautiful, sensible video message, the legendary French filmmaker -born to parents of Greek-French origin- Agnès Varda, who could not attend this year's event, addressed the 20th TDF's audience. "I'm so sorry that I cannot speak to you in Greek. Though my father was born in Greece, in Thessaloniki actually, he never brought us here and never taught us Greek. Still, I'm happy to be with you -though not physically, but via my films. The most recent, Faces Places, which you are about to watch tonight, was made in collaboration with the visual artist JR". Speaking on the film's subject, Varda recounted how, together with JR and his "magic bus", as she said, got to know a big part of the French countryside, its people and their stories. "Various people of any kind, people with no authority. We only wished to make them understood, to come close to them. The idea was to make various people share something in good part and confidence. We talked with them. We took pictures of them and created a link between them and you, the viewers", explained the renowned director.
Right after, the 20th TDF's audience enjoyed the documentary Faces Places, which will be screened soon in Greek cinemas by One from the Heart.