Evia Film Project // 15-19 June
Screenings and activities for the entire family in North Evia
Thessaloniki International Film Festival is gearing up for its summer get-together with the audience in North Evia, setting up a programme for parents and children. Within the framework of Evia Film Project, we will enjoy films that explore humans' relation with nature, take part in exciting cinema workshops for children and play an environment-oriented board game. All actions have free admission for the public.
Evia Film Project, part of the "Fotodotes" section of the specially designated programme for the rebuilding and the restoration of Evia, planned and executed by the Ministry of Culture and Sports, coincides with the closing of school and includes activities destined for the entire family.
Cinema workshops:
On Wednesday June 15th, at 7pm, we embark on a "A Cinema Journey" into the world of the 7th art, discovering benchmark chapters of cinema history, getting acquainted with film genres, taking on different roles and specialties, and shooting a collective short film on the human-nature relationship. The workshop is open to the public and will be held at "To Apostagma", in Agia Anna.
In addition, on Saturday June 18th, at 6pm, the children's cinema workshop "Let's Play Cinema in North Evia" will be held at Mela Building, in Limni. Having organized events in schools and venues, promoting Art Education all over Greece, focusing on small rural communities like Gavdos, Agios Efstratios, the Ionian Islands, Diapontia Islands, Icaria, Fournoi, Thymaina, Leipsoi, Kalymnos, Telendos, Sifnos, Serifos, Paros, Kimolos and Small Cyclades among others, Cinemathesis presents its summer events for 2022 with the educational experiential cinema workshop 'Let's play Cinema in North Evia'. This time, our eyes are set on environmental conservation and sustainability.
Initially, the programme takes us back to the early days of film-making in an attempt to familiarize students with the concept of Fine Arts and the early cinematographers' need to depict everyday stories. We then continue to observe the present situation and make a personal statement on all this, through simple means of audio-visual expression.
We construct pre-cinematic optical toys, create characters, take pictures, watch and discuss excerpts from films which focus on the environment; we also make script drafts, design storyboards, film our ideas and have fun with the concept of the moving picture through various experiential actions. The diffusion of knowledge and skills provided within the two hours of engaging with cinematic tools will enable each young participant to become a viewer, a critic and a creator as well.
The programme Let's play Cinema has been approved by the Institute of Educational Policy and the Hellenic Ministry of Education. It is implemented under the auspices of the Hellenic Ministry of Culture and Sport and will be held in collaboration with the Thessaloniki International Film Festival in the framework of the Evia Film Project | Making Cinema Green.
Planning | Workshop implementation: CINEMATHESIS 
Further information on programme structure, members' information and audio-visual material from previous events is available on our website www.cinemathesis.com.
The workshop will be followed by a treat for Evia Film Project's little guests, just before the screening of the animated children's film The Red Turtle, at Elimnion cinema, in Limni, at 9.30pm. Within the framework of Evia Film Project, a series of fiction and documentary environment-themed films, suited for both children and teenagers, will be screened.
Cycladoupolis: An environmental game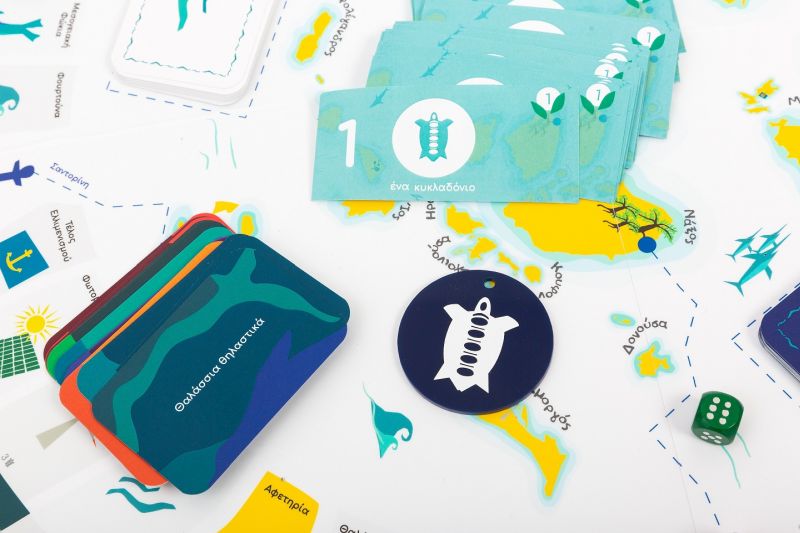 Within the framework of Evia Film Project's activities, the Festival is teaming up with the Museum of Cycladic Art and WWF Greece to offer some fun hours of entertaining and educational playtime for children, youngsters, and all those feeling like children, at Mela Building, in Limni, on Friday June 17th (from 5.30pm to 8.30pm), Saturday June 18th (from 11am to 6pm), and Sunday June 19th (from 5.30pm to 8.30 pm)
"Cycladoupolis" is a board game of environmental education designed by the Museum of Cycladic Art and WWF Hellas, and addressed to children over 6 years old. Its main goal is to make kids grasp the value of nature to our life on the planet and clue them in on the Cyclades' precious biodiversity, as well as on the notion of sustainable growth, through a series of fun challenges and riddles.
The game is aiming at raising awareness on issues of environment protection and inspire parents and children to adopt a new attitude towards life. The game board represents the natural environment and the prospects of sustainable growth. As the game kicks off, 120 banknotes of one "cycladonium" are distributed from the banker to the players. Depending on the dice roll, the player could land on the 16 "Calm" cards, earning cycladoniums, or in the 16 "Storm" cards, paying cycladoniums, whereas the 22 "protection cards" allow the player to but "protection" in the following categories: Marine Mammals, Fish, Renewable Energy Sources, Mediterranean Vegetation, Cultural and Natural Heritage, Ecotourism Trails etc.
"Cycladoupolis" is aspiring to restore the notion of economy to its primary and fundamental meaning. Children are taught to put their own house in order, which is no different than tending to the needs of the planet they inhabit. They protect the environment to secure resources both for the present and the future. The currency of "Cycladoupolis" represents the essential - rather than a monetary - value of nature to our life on the planet. The goal of the game is not to obtain ownership, but to protect nature and the sustainable activities in the Cyclades. After all, at the end of the day, what is the real trophy? A pocket full of money, but no fresh air to breathe, or a good quality of life?
Screenings for little and… not so little children
The Red Turtle
Director: Michaël Dudok de Wit. Japan-France, 2016, 97΄
Legendary Haya Miyazaki's Studio Ghibli is embarking on a first-time journey from Japan to France, presenting a stunning fairytale: the story of a castaway, on an island inhabited solely by turtles, crabs and birds. A love story that goes way beyond words.
Going Circular
Directors: Richard Dale, Nigel Walk. The Netherlands, 2022, 90΄
Explore the secrets of an innovative idea called circularity, a financial system that eliminates wastefulness, preserving the resources of our planet. A documentary, produced by Off the Fence, the co-producer of the Oscar-winning documentary My Octopus Teacher, that gives floor to four visionaries, whose action is bound to change our way of thinking, leading to a fundamental revaluation of how our food, cities, financial system, even our fashion industry, could be if we decided to create, produce and distribute within Earth's natural boundaries and limitations.
Beasts of the Southern Wild (13+)
Director: Benh Zeitlin. USA, 2012, 93΄
In a community cut off from the rest of the world, we meet 6-year-old Hushpuppy. Her mother is long gone, her father is a roughneck on a drinking spree, and she is left all alone in a secluded environment full of half-wild animals. Hushpuppy perceives nature as a delicate tissue of things that need to be tied together in harmony to keep the universe turning around. When a huge storm raises the waters, her daddy gets sick and imaginary beasts rise from their frozen graves, everything she cares about comes crumbling down. Desperate to restore the structure of her world and save both her home and her father, this tiny hero must learn how to survive from an incessant destruction of epic proportions.
The Forest Maker
Director: Volker Schlöndorff. Germany, 87΄
This documentary by Volker Schlöndorff, director of the iconic film The Tin Drum, outlines the portrait of a remarkable man, whose life work was bestowed in 2018 with the so-called "Alternative Nobel", the Right Livelihood Award. Toni Rinaudo found a way to grow trees even in the most infertile areas. Τhe Farmer Managed Natural Regeneration method restores not only the ground's fertility, but hope as well. The "Chief of All Farmers", as he has been named, was forced to give a fierce battle to see his ideas put into action. Having worked in the Sahel part of Africa for more than 30 years, he has witnessed first-hand the despair and hunger of people, as well as the resilience of the farmers and their struggle for change. The documentary conveys a powerful message of community, self-empowerment and, above all, hope.    
Nuisance Bear
Director: Jack Weisman, Gabriela Osio Vanden. Canada, 2021, 15΄
Churchill, Manitoba is famous as an international destination for photographing polar bears. We've seen the majestic images and the classic wildlife TV programs – but what does the bear see of us? This unconventional and visually arresting documentary shifts the perspective for a revealing look at a day in the life of a polar bear as it navigates an obstacle course of tourists and conservation officers. Nuisance Bear highlights the increasingly narrow and treacherous boundary between human and animal realms, asking audiences to consider the ways in which we interact with wildlife and if these relationships are sustainable.
Time and Tide
Director: Marleen van der Werf. The Netherlands, 2018, 29΄
A seemingly quiet and picturesque landscape on the Dutch coast emerges as a battlefield where the elements of nature collide and the forces that lead the universe to entropy come into play, in an endless circle of destruction and rebirth. A poetic, contemplative, and breathtaking film essay, which was born of a two-year suspenseful observation and aims at breaking all painless stereotypes about the "neutral" representation of the natural environment.
Dream Land
Director: Laila Pakalnina. Latvia-Germany, 2004, 36΄
There are places we don't want to know anything about, places we would rather pretend don't exist at all. One such place is the dumpsite. From the humans' point of view, it is a ghastly place, a stinking desert of trash. But it's a desert that is teeming with life.
A few words on EVIA FILM PROJECT:
EVIA FILM PROJECT makes part of the special rehabilitation and reconstruction program for Evia, following last summer's devastating wildfires, planned and executed by the Ministry of Culture & Sports. EVIA FILM PROJECT, carried out thanks to the support of the Region of Central Greece and in collaboration with the Municipality of Istiaia-Aidipsos and the Municipality of Mantoudi-Limni-Agia Anna. EVIA FILM PROJECT is aiming to transform Evia into an international pole of Green Cinema, offering the chance to filmmakers and producers from a worldwide scale to showcase their projects for the first time. EVIA FILM PROJECT is opening a third chapter in TIFF's actions, adding its name to the two existing and internationally acclaimed branches Thessaloniki International Film Festival (November) and Thessaloniki Documentary Festival (March). 
With our eyes set on consolidating EVIA FILM PROJECT as an Evia-based institution, Thessaloniki Film Festival is teaming up with Chalkida Documentary Festival, the Department of Digital Arts and Cinema of Psachna, the local administration, as well as all cultural institutions that have their seat in Evia.
The Evia Film Project is part of the "Light Donors" of the "Reconstruction Program of North Evia - Evia Meta". They are projects and events implemented in collaboration with Ministries and Institutions, highlighting all aspects of the holistic program in North Evia and illuminating the future of the region.
More:
https://evoia-meta.gov.gr/
https://www.facebook.com/EVIAMETAPROJECT/