The Death of Louis XIV
La mort de Louis XIV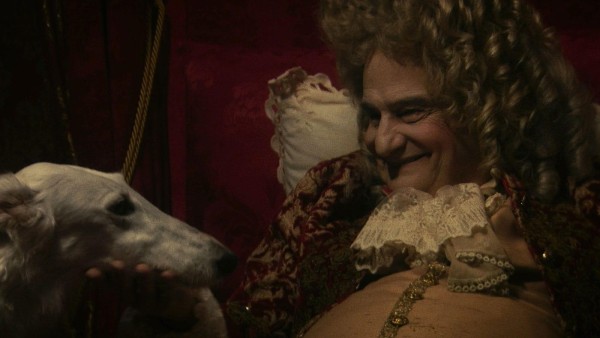 1715, by the deathbed of Louis XIV. A swarm of royal servants is swirling around the dying monarch. The palace's physicians are muttering through their teeth, petrified in the thought of being accused. The flatterers and backslappers of the court are in denial, insisting on pampering the patient, as if he was a baby. Roi-Soleil is about to set in slow and torturing agony – death has engulfed him. Jean-Pierre Léaud's wrinkled face reflects every aspect and manifestation of mortality: the gradual retreat of body and mind, the eerie blend of terror and serenity, the chilling plainness of the unavoidable end.
---
Direction:

Albert Serra

Script:

Albert Serra, Thierry Lounas

Cinematography:

Jonathan Ricquebourg

Editing:

Ariadna Ribas, Artur Tort, Albert Serra

Sound:

Jordi Ribas, Anne Dupouy

Music:

Marc Verdaguer

Actors:

Jean-Pierre Leaud, Patrick d'Assumcao, Marc Susini, Irene Silvagni, Bernard Belin

Production:

Capricci Production

Producers:

Thierry Lounas, Albert Serra, Joaquim Sapinho, Claire Bonnefoy

Co-production:

Rosa Filmes, Andergraun Films, Bobi Lux

Costumes:

Nina Avramovic

Format:

DCP

Color:

Color

Production Country:

France, Spain, Portugal

Production Year:

2015

Duration:

105΄

Contact:

Capricci, international@capricci.fr

Awards/Distinctions:

Best Actor, Best CinematographyBest Cinematography – Lumiere Awards, France 2017, OFCS Award – Online Film Critics Society Awards 2017
Catalan Albert Serra's films usually depict European myths, as well as landmark historical and literary figures. His film Honour of the Knights was selected by Cahiers du Cinéma as one of the ten best films of 2007. In 2013, a retrospective on Serra's work was screened in Parisian art complex Centre Pompidou. Serra's film Story of My Death was awarded the Golden Leopard at the Locarno Film Festival in 2013.
Filmography
2003 Crespia, the Film Not the Village (short)
2006 Honor de cavalleria | Honour of the Knights
2008 El cant dels ocells | Birdsong
2011 El Senyor ha fet en mi meravelles | The Lord Worked Wonders in Me (doc)
2013 Cuba Libre (short)
2013 Història de la meva mort | Story of My Death
2016 La mort de Louis XIV | The Death of Louis XIV
2019 Liberté | Freedom