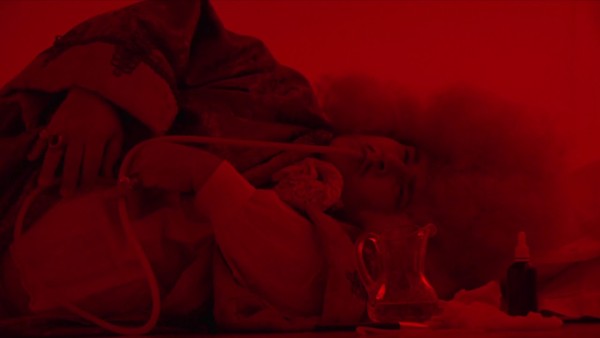 Albert Serra is once again drawn by the death rattle of Louis XIV, although this time he does not go for a chamber drama and a baroque decor. Instead, he opts for an aseptic void, a carmine whirlpool that resembles a blood-bathed entryway to hell. Like an indiscreet voyeur of pain and decay, his camera devours every inch of a mortally wounded beast that roars, screams and raves, just before he draws his final breath. Before death, human power will always seem nugatory and ludicrous.
Screening Schedule
No physical screenings scheduled.
---
Direction:

Albert Serra

Cinematography:

Artur Tort

Editing:

Ariadna Ribas, Albert Serra

Sound:

Jordi Ribas

Actors:

Lluís Serrat

Production:

Andergraun Films, Rosa Filmes

Producers:

Albert Serra, Joaquim Sapinho

Executive producer:

Montse Triola

Format:

DCP

Color:

Color

Production Country:

Spain, Portugal

Production Year:

2018

Duration:

62΄

Contact:

Andergraun Films

Awards/Distinctions:

Grand Prix International Competition – FID Marseille 2018
Born in Banyoles in 1975, Albert Serra is a Catalan artist and director. Having studied philosophy and literature, he wrote plays and produced different video works. He gained international recognition with his first long feature, Honor of the Knights, a free adaptation of Don Quijote played by non-professional actors from his village. The film was presented at Cannes' Directors' Fortnight in 2006. For his second film, Birdsong, Serra took inspiration from a traditional Catalan Christmas song, El cant dels ocells, and worked with the same group of people to tell the story of the Three Wise Men following their guiding star to find Jesus. In 2013, the Centre Pompidou in Paris gave him a carte blanche for correspondence with the Argentinian director Lisandro Alonso. The same year he received the Golden Leopard in Locarno for his new film Story of my Death, inspired by Casanova's memoirs. The Death of Louis XIV starring Jean-Pierre Léaud as the Sun King was presented in the Official Selection of Cannes Film Festival 2016. Liberté, starring Helmut Berger, Marc Susini, Baptiste Pinteaux, is the cinematic recreation of his 2018 Berlin Volksbühne play of the same name, which won the Special Jury award at the 2019 Un Certain Regard selection at Cannes. In 2022, he returned to Cannes in the Official Competition Section, with Pacifiction.
Filmography
2006 Honor of the Knights
2008 Birdsong
2013 Story of my Death
2016 The Death of Louis XI
2019 Liberté
2022 Pacifiction