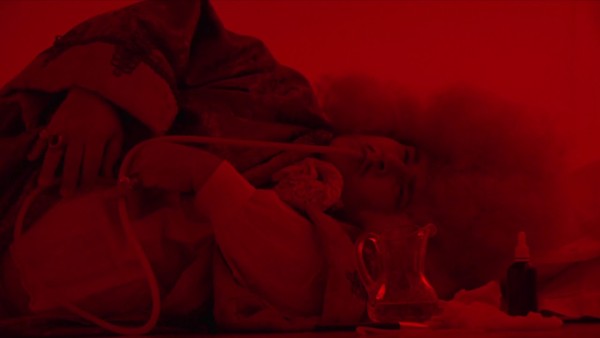 Albert Serra is once again drawn by the death rattle of Louis XIV, although this time he does not go for a chamber drama and a baroque decor. Instead, he opts for an aseptic void, a carmine whirlpool that resembles a blood-bathed entryway to hell. Like an indiscreet voyeur of pain and decay, his camera devours every inch of a mortally wounded beast that roars, screams and raves, just before he draws his final breath. Before death, human power will always seem nugatory and ludicrous.
---
Direction:

Albert Serra

Cinematography:

Artur Tort

Editing:

Ariadna Ribas, Albert Serra

Sound:

Jordi Ribas

Actors:

Lluís Serrat

Production:

Andergraun Films, Rosa Filmes

Producers:

Albert Serra, Joaquim Sapinho

Executive producer:

Montse Triola

Format:

DCP

Color:

Color

Production Country:

Spain, Portugal

Production Year:

2018

Duration:

62΄

Contact:

Andergraun Films

Awards/Distinctions:

Grand Prix International Competition – FID Marseille 2018
Catalan Albert Serra's films usually depict European myths, as well as landmark historical and literary figures. His film Honour of the Knights was selected by Cahiers du Cinéma as one of the ten best films of 2007. In 2013, a retrospective on Serra's work was screened in Parisian art complex Centre Pompidou. Serra's film Story of My Death was awarded the Golden Leopard at the Locarno Film Festival in 2013.
Filmography
2003 Crespia, the Film Not the Village (short)
2006 Honor de cavalleria | Honour of the Knights
2008 El cant dels ocells | Birdsong
2011 El Senyor ha fet en mi meravelles | The Lord Worked Wonders in Me (doc)
2013 Cuba Libre (short)
2013 Història de la meva mort | Story of My Death
2016 La mort de Louis XIV | The Death of Louis XIV
2019 Liberté | Freedom