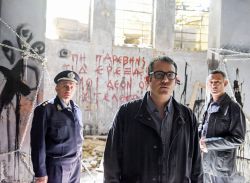 Athens 2015. Five murders. Dimitris Lainis, a criminology professor with Asperger's syndrome, undertakes to assist police in solving the hidden mystery behind these five murders. His only allies are the puzzle of the Pythagorean theorems and Marcel De Chaf, a professor of mathematics, who as another "deus ex machina" will lead Lainis towards the solution to the mystery. The closer he gets to solving the murders, the more he enters dangerous paths. Will he be able to solve the mystery and discover the guilty ones?
Screening Schedule
No physical screenings scheduled.
---
Script:

Sotiris Tsafoulias

Cinematography:

Yorgos Michelis

Editing:

Yorgos Mavropsaridis, Yorgos Georgopoulos

Sound:

Yannis Antipas

Music:

Costas Maragos

Actors:

Pygmalionas Dadakaridis, Ioanna Kolliopoulou, Manos Vakoussis, Dimitris Kataleifos, Yorgos Chrysostomou

Production:

Green Dragon

Co-production:

Blonde SA

Art Direction:

Elias Ledakis

Costumes:

Agis Panagiotou

Format:

Color

Production Country:

Greece

Production Year:

2016

Duration:

101

Distribution in Greece:

Feelgood Entertainmentinfo@feelgoodentertainment.gr www.feelgoodentertainment.gr

Contact:

Blonde SA Fenia Cossovitsa fenia@blonde.gr www.blonde.gr
Sotiris Tsafoulias was born in Piraeus in 1975. He studied Maritime Business and Maritime Law, but his great love was cinema. Following a successful career in business, he turned to film. His first feature film was Common Denominator (2014), with which he participated in several international festivals, winning a total of seven awards in various categories including Best Director, Best Screenplay, Best Film and Audience Award. The script of Common Denominator was adapted for the theater by Didier Long and premiered at the Théâtre de l'Atelier in Paris. The Other Me was his second feature film, winning two awards at the Thessaloniki International Film Festival: the Michael Cacoyannis Award and the Youth Jury Award of the Universities of Thessaloniki for Best Film. The film also won the Audience Award at the 12th Liège International Crime Film Festival and the Los Angeles Film Festival, the Special Effects and Cinematic Innovation Award from the Hellenic Film Academy, and Best Director at the Taormina Film Fest. The Other Me quickly became a favorite of film-lovers and other viewers, and in summer 2019 the sequel series The Other Me: Lost Souls premiered on COSMOTE TV. The huge success of the series was followed by another season, The Other Me: Catharsis, while what will probably be the last season in the series, The Other Me: Nemesis, was presented in early 2023. In 2021 Tsafoulias directed the theater play Enigmatic Variations by Eric-Emmanuel Schmitt. The play was a great success in all respects and will be staged again at the Michael Cacoyannis Foundation in late 2023.
Filmography
2014 Common Denominator
2016 The Other Me
2019 The Other Me – Lost Souls (TV Series)
2020 The Other Me – Katharsis (TV Series)
2023 The Other Me – Nemesis (TV Series)
2023 17 Threads (TV Series)