#summertiff - Cinema with a View 2019
Film nights under the stars at Thessaloniki's most beautiful summer cinema!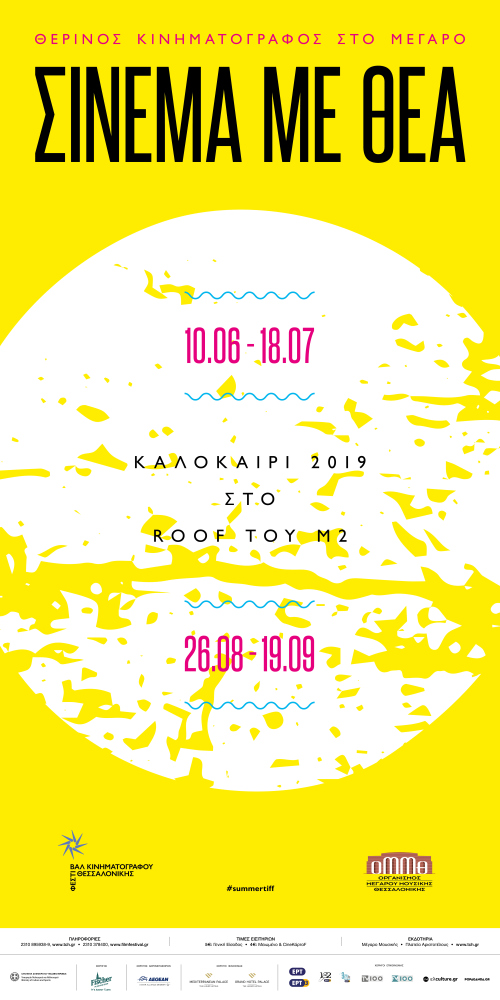 Thessaloniki's favorite summer cinema is back! Thessaloniki Film Festival and Thessaloniki Concert Hall offer summer film nights for the fifth consecutive year at Thessaloniki's most beautiful spot: the M2 building roof of the Thessaloniki Concert Hall, with a unique view on the city's Thermaic Gulf.
Launched in the summer of 2015, "Cinema with a View" is a summer cinema that was immediately loved by the audience and quickly became successful with many sold-out screenings. This year the event takes place from the 10th of June to the 18th of July and from the 27th of August to the 19th of September. It is an ideal option for the citizens of Thessaloniki, as well as for people who visit the city during that time.
The event presents 20 films of recent production, featuring exciting stories with famous protagonists, from beloved directors.
>> For more information click here
Online ticket sales are available here: www.tch.gr.
INFO
Thessaloniki Concert Hall, roof of M2 building
Screenings from Monday to Thursday
Ticket prices: 5€ (general admission), 4€ (reduced price tickets, CineΚartaF 2018-2019)
11 June 2019
21:30
Stan & Ollie | Stan & Ollie
ROOF M2, THESSALONIKI CONCERT HALL
12 June 2019
21:30
Slack Bay | Ma Loute
ROOF M2, THESSALONIKI CONCERT HALL
13 June 2019
21:30
Slack Bay | Ma Loute
ROOF M2, THESSALONIKI CONCERT HALL
17 June 2019
21:30
Joint Custody | Garde Alternée
ROOF M2, THESSALONIKI CONCERT HALL
18 June 2019
21:30
Joint Custody | Garde Alternée
ROOF M2, THESSALONIKI CONCERT HALL
19 June 2019
21:30
The Florida Project | The Florida Project
ROOF M2, THESSALONIKI CONCERT HALL
20 June 2019
21:30
The Florida Project | The Florida Project
ROOF M2, THESSALONIKI CONCERT HALL
24 June 2019
21:30
Love and Friendship | Love and Friendship
ROOF M2, THESSALONIKI CONCERT HALL
25 June 2019
21:30
Love and Friendship | Love and Friendship
ROOF M2, THESSALONIKI CONCERT HALL
26 June 2019
21:30
The Happy Prince | The Happy Prince
ROOF M2, THESSALONIKI CONCERT HALL
27 June 2019
21:30
The Happy Prince | The Happy Prince
ROOF M2, THESSALONIKI CONCERT HALL
01 July 2019
21:30
Les Ex | Les Ex
ROOF M2, THESSALONIKI CONCERT HALL
02 July 2019
21:30
Les Ex | Les Ex
ROOF M2, THESSALONIKI CONCERT HALL
03 July 2019
21:30
American Animals | American Animals
ROOF M2, THESSALONIKI CONCERT HALL
04 July 2019
21:30
American Animals | American Animals
ROOF M2, THESSALONIKI CONCERT HALL
08 July 2019
21:30
Leisure Seeker | Leisure Seeker
ROOF M2, THESSALONIKI CONCERT HALL
09 July 2019
21:30
Leisure Seeker | Leisure Seeker
ROOF M2, THESSALONIKI CONCERT HALL
10 July 2019
21:30
Don't worry he won't get far on foot | Don't worry he won't get far on foot
ROOF M2, THESSALONIKI CONCERT HALL
11 July 2019
21:30
Don't worry he won't get far on foot | Don't worry he won't get far on foot
ROOF M2, THESSALONIKI CONCERT HALL
15 July 2019
21:30
Too Much Info Clouding Over My Head | Too Much Info Clouding Over My Head
ROOF M2, THESSALONIKI CONCERT HALL
16 July 2019
21:30
Too Much Info Clouding Over My Head | Too Much Info Clouding Over My Head
ROOF M2, THESSALONIKI CONCERT HALL
17 July 2019
21:30
Dogman | Dogman
ROOF M2, THESSALONIKI CONCERT HALL
18 July 2019
21:30
Dogman | Dogman
ROOF M2, THESSALONIKI CONCERT HALL
26 August 2019
21:00
Everybody Knows | Todos lo saben
ROOF M2, THESSALONIKI CONCERT HALL
27 August 2019
21:00
Everybody Knows | Todos lo saben
ROOF M2, THESSALONIKI CONCERT HALL
28 August 2019
21:00
Hot Summer Nights | Hot Summer Nights
ROOF M2, THESSALONIKI CONCERT HALL
29 August 2019
21:00
Hot Summer Nights | Hot Summer Nights
ROOF M2, THESSALONIKI CONCERT HALL
02 September 2019
21:00
I Dream in Another Language | Sueño en Otro Idioma
ROOF M2, THESSALONIKI CONCERT HALL
03 September 2019
21:00
I Dream in Another Language | Sueño en Otro Idioma
ROOF M2, THESSALONIKI CONCERT HALL
04 September 2019
21:00
Back Home | Contromano
ROOF M2, THESSALONIKI CONCERT HALL
05 September 2019
21:00
Back Home | Contromano
ROOF M2, THESSALONIKI CONCERT HALL
09 September 2019
21:00
Borg vs. McEnroe | Borg vs. McEnroe
ROOF M2, THESSALONIKI CONCERT HALL
10 September 2019
21:00
Borg vs. McEnroe | Borg vs. McEnroe
ROOF M2, THESSALONIKI CONCERT HALL
11 September 2019
21:00
The Bra | The Bra
ROOF M2, THESSALONIKI CONCERT HALL
12 September 2019
21:00
The Bra | The Bra
ROOF M2, THESSALONIKI CONCERT HALL
16 September 2019
21:00
Crooked House | Crooked House
ROOF M2, THESSALONIKI CONCERT HALL
17 September 2019
21:00
Crooked House | Crooked House
ROOF M2, THESSALONIKI CONCERT HALL
18 September 2019
21:00
Godard Mon Amour | Le Redoutable
ROOF M2, THESSALONIKI CONCERT HALL
19 September 2019
21:00
Godard Mon Amour | Le Redoutable
ROOF M2, THESSALONIKI CONCERT HALL